News & Media

Virgin America Conducting Market
Research in St. Maarten
SXM Airport at World Routes 2013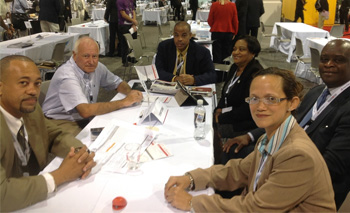 SIMPSON BAY, St. Maarten
(October 13, 2013) Virgin America is conducting a market research on the island as part of its long-term plans. This was disclosed at a meeting the airline requested with the St. Maarten delegation that attended the recently concluded World Routes 2013 held in Las Vegas. The delegation was led by the Hon. Ted Richardson, Minister of Tourism, Economic Affairs, Transport and Telecommunications and included Regina LaBega, SXM Managing Director, and Edward Dest, Interim Director, St. Maarten Tourist Bureau (STB). Other members of the delegation were Louis Halley, head of Maritime and Civil Aviation, and Suzy Kartokromo, Acting Manager, Marketing and Customer Service Department at SXM.
"Our participation at the World Routes 2013 yielded very positive results," stated Minister Ted Richardson. "We were not only able to meet with key players in the aviation industry, but also discussed the long-term plans of airlines such as Virgin America and Southwest, which are considering possible service to St. Maarten."
More than 2,700 delegates representing 300 airlines, 750 airports and 100 destinations participated in World Routes 2013, considered the world's most important commercial aviation event, which was held this year for the first time on US territory.
The St. Maarten delegation also met with representatives of Hartsfield Jackson Atlanta Airport and New York's Kennedy Airport.
"These meetings were based on our interest to establish meaningful sister airport relationships. We had fruitful discussions among others, about 'best practices' as they relate to retail, technical, customer service, etc. in the operations of an international airport," LaBega disclosed.
The potential of increasing airlift to SXM was among the main focus of the delegation in its discussions with several airlines. US Airways, for example, expressed its satisfaction with the St. Maarten market and revealed that it is finalizing plans to use a larger aircraft in November to operate its weekend flights into SXM. "This larger aircraft, Airbus 330 will result in an increase of approximately 70 seats per flight," LaBega stated.
LIAT also expressed its interest to operate in and out of SXM after 9 PM, to maximize aircraft utilization and profitability.
Similarly, Fly Montserrat, expressed an interest in flying between Antigua and SXM. The company stated, however, that this would not be to compete against LIAT, but merely to complement the existing service from carriers.
JetBlue's San Juan, Puerto Rico service has been performing well and the airline is looking into the possibility for increasing service. The company said its load factors in and out SXM are good and revealed that talks are underway for a possible interline agreement with LIAT. It is also considering "sharing flights" between two markets. In such cases a flight would, for example, operate 4 times weekly into SXM, and the other 3 days the aircraft would be used to operate for example in and out of St. Thomas.
"I am very satisfied with the outcome of our participation in the World Routes event and look forward to follow up action to concretize the results of our various meetings with our aviation stakeholders," concluded Minister Richardson.