About The Airport

Our Excellence Did Not Just Happen.
Airport Facts
Airport Area: 642,415 m2
Terminal Area: 30,500 m2
Capacity: 36-40 movements / hour
Boarding gates: 13
Check-in counters: 46
Transfer desks: 10
Immigration booths: 20
Emigration booths: 5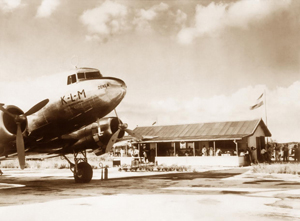 From a tiny US military airstrip in 1942, in the thick of World War II, to an ultra-modern international airport in 70 years, Princess Juliana International Airport (SXM) has developed by leaps and bounds to make it one of the busiest in the region, with an average of 1.6 million passengers passing through it yearly.
The first commercial flight, a KLM "Kolibrie" aircraft, touched down on December 3, 1943. The world's largest transport aircraft, the Antonov An-255, came calling with relief materials in 1995 following Hurricane Luis. Even the now defunct Concorde, which at the time was the world's fastest aircraft, landed on its runway long before this was extended to its current length of 2,300 m (7,659 ft).
The first terminal building quickly became inadequate. Consequently, a new one was built in 1964.
In 1986, the terminal building was remodeled with new departure and arrival halls. A new corporate structure was implemented in 1996 with the incorporation of the Princess Juliana International Airport Operating Company NV (PJIAE).
In 1997, a master plan was developed resulting in the new US$100 million airport terminal that was officially opened on November 10, 2006.
Designed to handle some 2.5 million passengers annually, SXM Airport's four-level, fully air-conditioned, and spacious modern terminal facilities with its glass exterior, span an area of 32,000m2. It includes 12 boarding gates, 4 jet bridges; 46 check-in positions and 8 CUSS kiosks or self-service check-in systems. It has a comfortable Departure Hall with 21 completely duty-free retail outlets, and 5 food & beverage outlets with 3 bars.
A separate, 2,000m2 cargo facility built to handle 10,000 tons of cargo per year, exists near the Terminal Building.
Our Mission
To be the regional leader in providing safe, secure, quality and profitable airport services that contribute to the general economic and tourism development of St. Maarten/ St.Martin and the region we serve.
Our Vision
En route to new horizons