News & Media

Second annual Runway Run – Fit in 2023 dubbed a success for PJIAE N.V.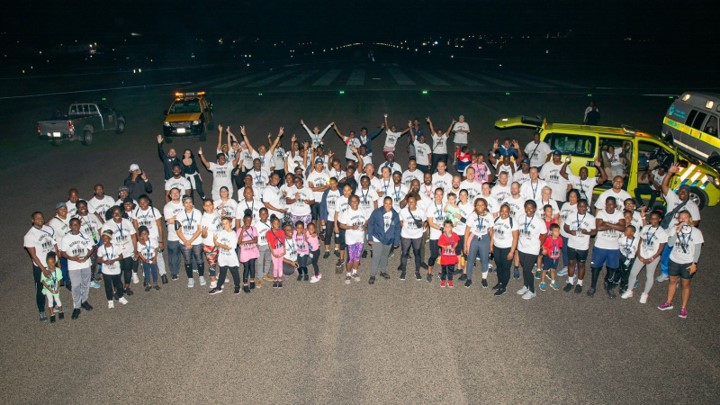 SIMPSON BAY, St. Maarten (January 23, 2023) - Princess Juliana International Airport (PJIAE) kicked off its second annual 2,3KM Runway Run – Fit in 2023, on the Airport's runway on Sunday, January 22, 2023. Over 119 runners and walkers of the airport community participated in the second venture of its kind. The sporting event is part of the PJIAE's internal health program which encourages employees and stakeholders to maintain a healthy and fit lifestyle.
The Airport Chief of PJIAE N.V., Mr. Brian Mingo once again signaled the start of the Runway Run with this opening statement: 'Events like these are not about the walk, run, or even race, it is about waking up at 4:00AM on Sunday and show team spirit. We can only accomplish things if we do them together, great turn out, great event and great spirit by all, thank you.'
The run took off at precisely 5:30AM in the morning which is outside of the operation hours of the airport. After the finish, all participants received a healthy Caribbean breakfast, courtesy of PJIAE.
About Princess Juliana International Airport
Princess Juliana International Airport is one of the busiest airport in the Northeast Caribbean. It is the most important airport hub for Saba, St Eustatius, St Barths, Anguilla, Dominica, Nevis, and Tortola. The airport is one of the largest employers on the island. It has 277 workers and 1700 workers within the entire airport community. In 2022 the Sint Maarten airport expects to handle 1.2 million passengers and 54.000 aircraft movements. The reconstruction works of the airport have started in September 2021. In 2023, the Departure Hall will be ready.
In the summer of 2024, the new terminal will be finished. Contractor Ballast Nedam International Projects (BNIP) is actively seeking cooperation with local people and companies which is essential for socio-economic recovery of Sint Maarten. 
Historic Timeline
Princess Juliana Airport was officially opened by Princess Juliana in 1944. In 2006 her Majesty Queen Beatrix inaugurated the new terminal building. In 2017 St.Maarten was hit by Hurricane Irma (Cat 5) and the airport's terminal was heavily damaged. In January 2020 Princess Juliana International Airport signed the WorldBank/EIB loan to reconstruct the terminal. In July 2021 Ballast Nedam International Project was the main contractor selected for the reconstruction of the airport terminal.