News & Media

Renewal of external façade panels for Airport Terminal in progress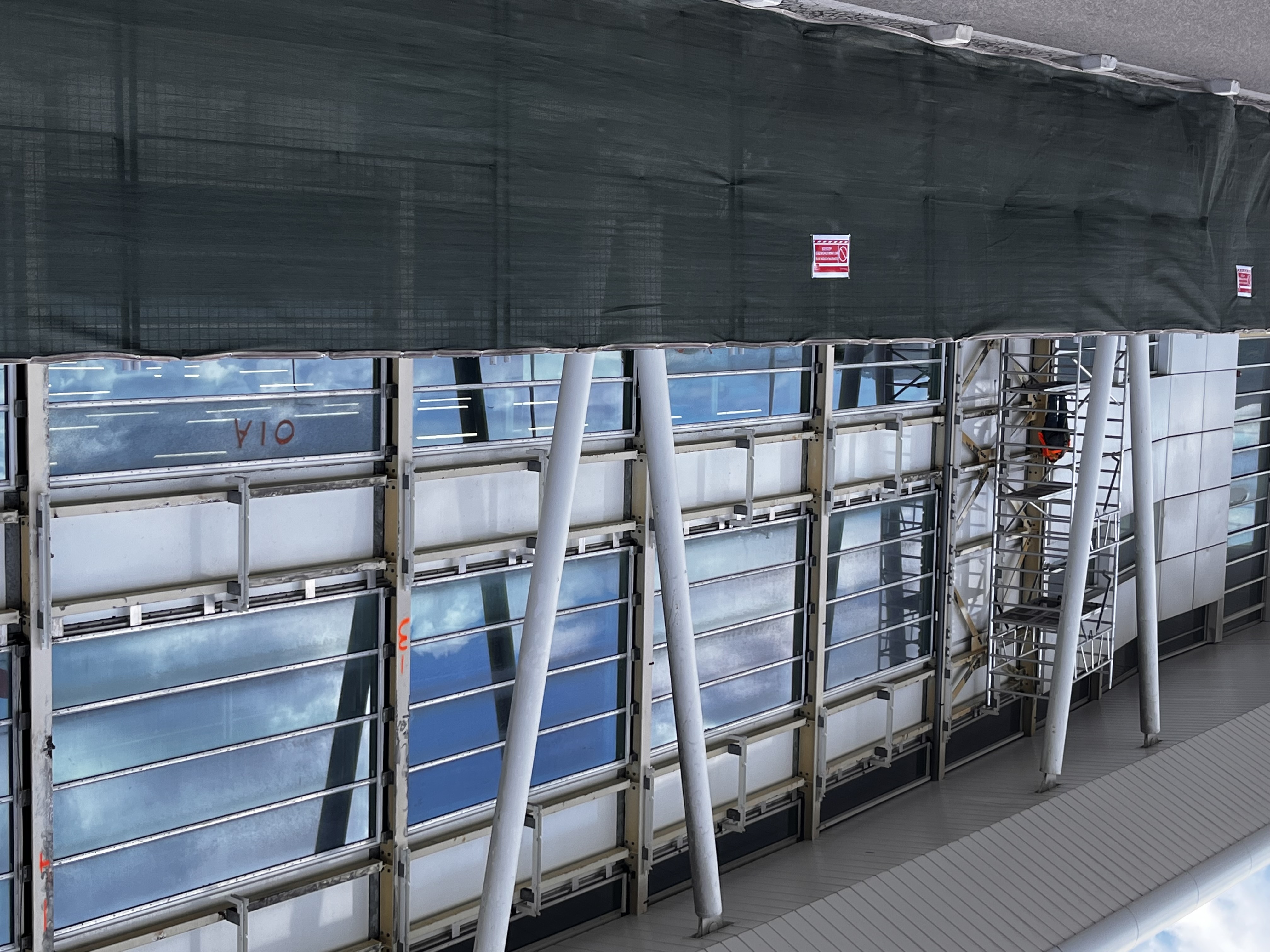 Simpsonbay, St. Maarten (January 23, 2023) – Passersby can now visibly witness the renewal of the external panels on the façade of the terminal building of the Princess Juliana International Airport. The intricate process includes the replacement of the damaged metal panels, notwithstanding the glass panels which were shattered during hurricane Irma in 2017. The renewals are guided by Contractor, Ballast Nedam International Projects. According to the latest notice provided by the Project Management Unit (PMU), the façade works began since Q4 of 2022, with an estimated completion in Q1 of 2023.
The façade works also included the corrosion treatment of the structural steel wall of the façade. A local subcontractor carried out the removal of the rust, the application of primer, and the paint finish.
Director of the PJIAE Project Management Unit (PMU), Mirto Breell – "The PMU is delighted to announce that the dismantling and installation of the eastern side of the terminal building begun this week. So far, the works on the façade facing the aircrafts is completed and 50% of roadside works are done. It is significant to note that not all the panels had to be replaced, which lends to significant savings in our budget. There is a lot of coordination required to reduce the impact on the ongoing live airport operation at the terminal building, however we are determined to get the job completed."
About Princess Juliana International Airport
Princess Juliana International Airport is the second busiest airport in the Northeast Caribbean. It is the most important airport hub for Saba, St Eustatius, St Barthelemy, Anguilla, Dominica, Nevis and Tortola. The airport is one of the largest employers on the island. It has 277 workers and 1700 workers within the entire airport community. In 2022, the Sint Maarten airport expects to handle 1.2 million passengers and 54.000 aircraft movements. The reconstruction works of the airport have started in September 2021. At the end of December 2022, the Departure Hall will be ready to use for passengers. In the summer of 2023, the new terminal will be finished. Contractor Ballast Nedam International Projects is actively seeking cooperation with local people and companies which is essential for socio-economic recovery of St. Maarten.
Historic Timeline
Princess Juliana Airport was officially opened by Princess Juliana in 1944. In 2006, her Majesty Queen Beatrix inaugurated the new terminal building. In 2017, the airport was hit by Hurricane Irma (Cat. 5) In January 2020, Princess Juliana International Airport signed the WorldBank/EIB loan to reconstruct the terminal. In July 2021, Ballast Nedam International Project signed the contract to start the reconstruction.