News & Media

Direct flight from qatar airways shows demand for ultra-luxury air service in our region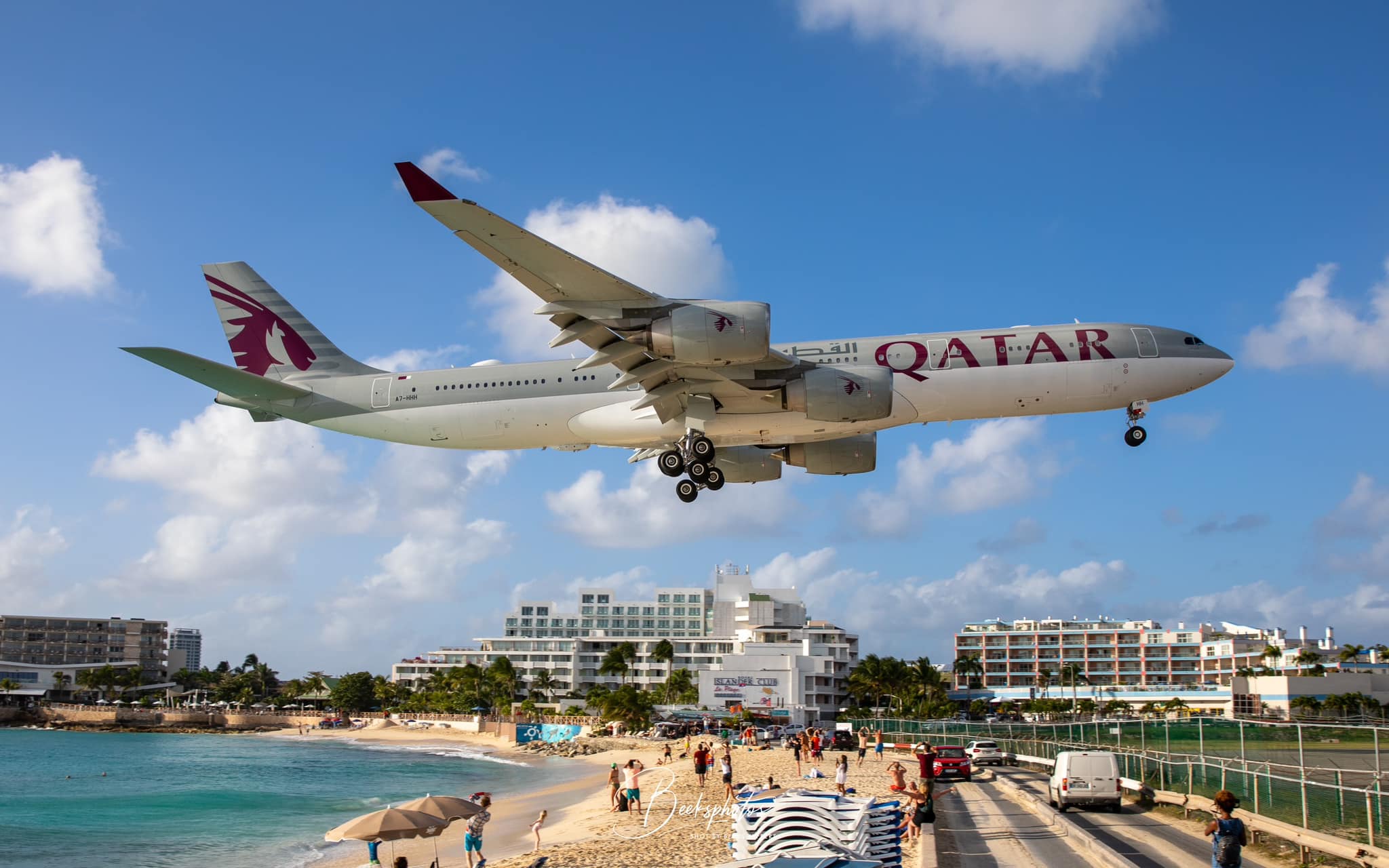 Simpsonbay, St. Maarten (February 27, 2023) – The ultra-luxury carrier Qatar Airways performed a "Spectacular landing" at the Princess Juliana International Airport on Friday, February 17, 2023.The long-haul carrier served a direct chartered private flight and is known to have the longest range of the A340-family.
The state-owned flag carrier airline of Qatar is Qatar Airways. The Airbus A340-500 is also a four-engine wide-body airliner with a maximum capacity of 375 passengers. 
Director of Operations, Emile Levons – "The airline travels to over 150 destinations throughout Africa, Asia, Europe, the Americas, and Oceania, using a fleet of more than 200 aircraft. Qatar Airways is produced by the European manufacturer, Airbus S.A.S. headquartered at the Qatar Airways Tower in Doha."
Chief Executive Officer of PJIAE N.V., Brian Mingo, "The private jets have increased to nearly 10,000 in 2022, showing signs that it is up from 7,000 annually. The direct flight from Qatar Airways presents the demand for ultra-luxury flights in our region. This is a niche market that the Management of the Princess Juliana International Airport is looking into with the necessary insights from our commercial team and stakeholders. Our award-winning airport provides service to twenty (20) commercial carriers and serves our private flight service through two (2) fixed-based operators, ExecuJet, and Arrindell Aviation by Signature."
About Qatar Airways
Qatar Airways is the national airline of the State of Qatar. Based in Doha, the airline's trendsetting on-board product focuses on comfort, fine cuisine, and the latest in-flight audio & video entertainment. The award-winning air service has a modern aircraft fleet averaging around five (5) years of age. 
Qatar Airways serves more than 150 key business and leisure destinations worldwide, with a fleet of over 200 aircraft. The airline flies to Australia, Asia, Europe, the Middle East, Africa, North America, and South America.
About Princess Juliana International Airport 
Princess Juliana International Airport is one of the busiest airport in the Northeast Caribbean. It is the most important airport hub for Saba, St Eustatius, St Barths, Anguilla, Dominica, Nevis, and Tortola. The airport is one of the largest employers on the island. It has 277 workers and 1700 workers within the entire airport community. The reconstruction works of the airport have started in September 2021. The new Departure Hall will be officially opened in 2023.
AThe terminal building will be opened in 2024. Contractor Ballast Nedam International Projects (BNIP) is working with local people and companies which is essential for socio-economic recovery of Sint Maarten. 
Historic Timeline 
Princess Juliana Airport was officially opened by Princess Juliana in 1944. In 2006, her Majesty Queen Beatrix inaugurated the new terminal building. In 2017, the airport was hit by Hurricane Irma (Cat 5) In January 2020, Princess Juliana International Airport signed the World Bank/EIB loan to reconstruct the terminal. In July 2021, Ballast Nedam International Project signed the contract to start the reconstruction.