News & Media

SXM Airport gets Rescue Boat, Meets ICAO Standards
First in the Caribbean with Advanced Technology Structural Fire Truck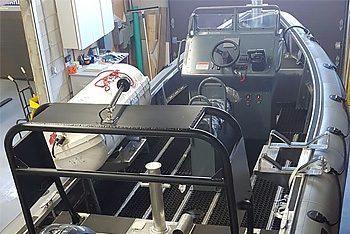 Simpson Bay, St. Maarten (Thursday, March 1, 2018) – The Rescue and Firefighting Department of the Princess Juliana International Airport (R&FF) now has a rescue boat and an ultra-modern structural fire truck.

In 2017, the Rescue and Firefighting department met with the St. Maarten Civil Aviation to ensure that the International Civil Aviation Organization (ICAO) regulations were met, as all airports that are surrounded by water should have initial water rescue response.

The rescue boat is a Zodiac 650 brand, as used in the army. It is 20 feet long and has provisions to carry a total of two life rafts and eight persons. The life rafts can be deployed to carry 65 persons each. The manufacturer's representative hosted an informative training session on the rescue boat and also took the Rescue and firefighters for a practical training at sea.

According to the Manager of SXM's Rescue and Firefighting Department (R&FF), Manilo Penijn "The purpose of the rescue boat is to provide a water response in our sea radius and to provide initial form of rescue so there is a chance of survival in the event of a plane crash."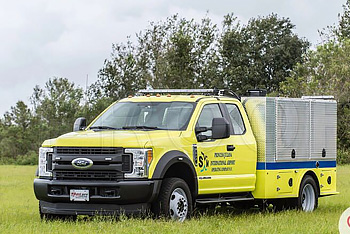 Moreover, ICAO mandates that if you have structural buildings on the airport premises you must provide some form of firefighting capabilities for these structures, hence the purchase of the structural fire truck. In the event of an untimely fire, the structural fire truck will be used to aid the terminal building, Departure Pavilion, Air Traffic Services building (ATS) and any other building on the PJIA premises. Currently the fire trucks we possess are for aircraft firefighting purposes.

The structural fire truck was purchased pre-hurricane Irma, it is based on a 2017 Ford F-550 4x4 super cab chassis, fitted with Pyrolance transitional quick attack tools. The heart of any Pyrolance fire-fighting vehicle is the advanced transitional attach system which features the patented dual piercing-fire control technology. This technology allows our fire-fighters to make an aggressive interior attack on a fire from a safe exterior position. The water tank capacity is 300 US gallons (1135 liters), and two foam tanks, Class A 10 US gallons (38 liters), Class B 20 US gallons (75 liters).

PJIAE is the first to purchase a structural fire truck with this type of advance technology in the Caribbean.