News & Media

SXM Airport Pleased With Significant Investment by Arrindell Aviation by Signature in Interplane Fueling Equipment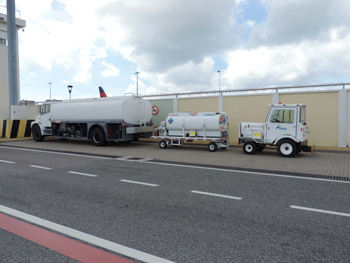 SIMPSON BAY, St. Maarten
(Wednesday, April 8, 2015) - Everything is being put in place to execute the recent agreement signed between Princess Juliana International Airport, SXM, and Arrindell Aviation by Signature dba Signature Flight Support, noted SXM Managing Director, Regina LaBega. She was commenting on the arrival on the island of equipment for interplane fueling recently acquired by Signature.
"I am particularly pleased to note that the ability to handle interplane fueling has created employment opportunities for five full time employees," remarked LaBega. The "significant" investment by Arrindell Aviation by Signature dba Signature Flight Support further demonstrates its readiness to upgrade its services even as it awaits the construction of the new FBO facility. This will require the relocation of the current Met Office as well as the Civil Aviation Authority of St. Maarten for which the necessary permits and authorizations are still being expected from government.
At the signing of the agreement with Signature by Arrindell earlier this year, LaBega had praised "the vision and efforts" of the two main FBO operators (Signature and TLC) who will continue to offer their services at the new facility and credited both for the success of the General Aviation sector on the island, which has made the destination number two in the region, behind only the Bahamas, according to a recent Caribbean Journal ranking.
"The investment by Signature in tugs, fuel trucks, water, baggage and golf carts, and other equipment points to the fact that the company is doing its part to maintain the island's competitive edge," LaBega remarked.
"Growing a sector like General Aviation from scratch, through dint of hard work, professionalism, commitment and dedication is not easy in this highly competitive industry where other destinations are doing all they can to increase their market share with unreserved government support," she reiterated.
Arrindell Aviation by Signature dba Signature Flight Support has reportedly conducted interviews to fill the new job opportunities its interplane fueling activity has generated and plans to train its staff in the usage of the various equipment it has just purchased.