News & Media

WEATHER RELATED STATEMENT (#4) Emergency Operations Center (EOC) Chairlady Prime Minister Hon. Leona Romeo Marlin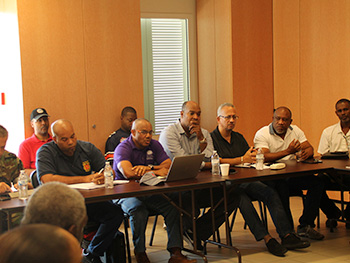 For Immediate Release: Sunday, July 8th, 2018
To the residents and visitors of Sint Maarten

Good afternoon,

On Sunday, the Emergency Operations Center (EOC) continued to monitor closely the progress of Tropical Storm Beryl.  All ten Emergency Support Functions of the country's disaster management system as well as supporting entities such as the Marines continue to make preparations related to the storm. The ten Emergency Support Functions comprises of GEBE, Telecommunications, Police, Fire, Communications, Government Organization, Tourism, Social & Welfare Affairs, Public Health, and Ministry VROMI (Public Works).

The EOC decided to take the following decisions after consultation with the Meteorological Department of Sint Maarten. Sint Maarten remains under a Tropical Storm Watch.  A small craft advisory is also in effect until Tuesday. Based on the forecast, Tropical Storm Beryl is moving quickly towards the islands.  On Sunday afternoon Beryl was located over 345 miles southeast of Sint Maarten.

The forecast track has Beryl passing about 120 miles south of Sint Maarten sometime early Monday.  Beryl's maximum wind speeds are near 45 miles per hour with higher gusts.  Beryl is expected to be downgraded to a tropical wave by this evening.

Expected weather conditions to affect Sint Maarten are as follows:

Gusty winds up to 26 knots/30 mph can be expected Sunday night through Monday with occasional higher gusts.

Seas are deteriorating, swells of up to 10 feet are expected. Small craft operators and sea bathers should be vigilant.

Rainfall accumulations of up to two inches is expected, and minor flooding is possible in low lying areas.

Key Emergency Support Functions such as the Fire Department, Police, Public Health, Social & Welfare Affairs and the Marines are on standby for rapid response to an emergency.

Regarding the business sector; Monday will be a normal working day and it is the prerogative of the business owner or manager, whether employees should report to work under these pending rainy conditions.

All Government services to the community will continue as normal. The SXM Airport will remain open as well. Concerning electricity and water supply from GEBE; those services remain available during the passing of the weather system. The Government of Sint Maarten has taken precautionary measures.

Due to a number of homes still under construction, and roofs not fully repaired; the Emergency Operations Center (EOC) took the decision on Saturday morning to open three Hurricane Shelters.


Shelters will open at 5.00PM today Sunday and close on Monday at 5.00PM. The shelters are:
1. Dutch Quarter Community Centre - Zorg en Rust, Dutch Quarter;
2. Milton Peters College gym - L.B. Scott Road, South Reward;
3. Christian Fellowship Church. - Welfare Road 95, Cole Bay;
Individuals and families should first make arrangements to stay with family, friends or neighbors and to secure their personal belongings before they leave their current location for one of the three shelters.
Persons who will be making use of these shelters must bring along with them, water, food, snacks, baby formula, medications, bed sheets, blankets, toilet paper and other toiletries for the 24-hour period.  Families must also ensure that they bring along enough of the aforementioned for each member of their family. The Shelter Rules are: No weapons - (for example) - guns, knives or blades; No drugs or alcohol; No obscene language or destruction of property; No stealing; No cooking in the shelter; No smoking; No sexual activity; and no pets or animals will be allowed in the shelter.
Those making use of the shelter must make sure they keep their area clean; Guests must be dressed appropriately at all times; Keep your valuables with you at all times; Cell phone usage must not violate quiet area and lights out rules.
Those making use of the shelter must follow all instructions given by the shelter management staff.
All persons staying in the shelter must sign in and out at all times.
The Shelter Management Team will provide sleeping bags, and cots.
The Emergency Operations Center (EOC) continues to closely monitor the progress of Tropical Storm Beryl.  Residents are advised to do the same. Additional updates about Tropical Storm Beryl will be provided by the Meteorological Department and the Department of Communication. All residents are advised to monitor weather reports from (www.meteosxm.com) and check the Government of Sint Maarten website (www.sintmaartengov.org) or the Government of Sint Maarten Facebook Page, and Government Radio 107.9 FM for official information as it relates to national preparations. Thank you for your attention and May God Bless our Sint Maarten land and keep us safe.