News & Media

SXM at Caribbean Aviation Day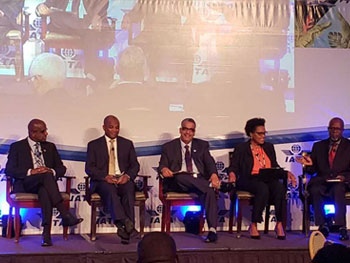 Simpson Bay, St. Maarten (Sunday July 15, 2018)- Chief Financial Officer (CFO) and Acting Chief Executive Officer (CEO), Ravi Daryanani of the Princess Juliana International Airport – SXM – was among panelists at the recently concluded Caribbean Aviation Day hosted by the International Air Transportation Association (IATA), the Caribbean Development Bank and ALTA, at the Hilton Barbados Resort.
The "Executive CEO Chat" addressed the theme:"Challenges facing the Caribbean Aviation Growth an Intra-Connectivity." The other panelists included the CEO of LIAT, Julie Reifer -Jones, Managing Director of Bahamas-air, Tracy Cooper, Secretary General of the Caribbean Tourism Organization, Hugh Riley and Media Consultant of Rogers Media House, Julian Rogers.
The chat is a traditional flagship panel at IATA Aviation Days, bringing senior executives of the aviation industry together to discuss some of the challenges that the industry has faced over the past year and is likely to face in coming years. The overall goal of the panel was to get the panelists to shed light on how they have met or plan to meet those challenges. Reportedly, the air transport industry in Latin America and the Caribbean generates US$ 167 billion in GDP and supports 5.2 million jobs. The report, according toIATA, goes on to state that every year, 2.6 million flights operate in Latin America and the Caribbean, connecting 385 cities in the region and 160 cities around the world.
Daryanani took the opportunity to update the panelists and delegates on the current operations at the Princess Juliana International Airport following the 2017 hurricanes.
"Maybe Hurricane Irma did one thing for us, it allowed us to hit a reset button on how to reach out to our airlines, VIP services, partners and neighbors on the French side," he said.
He further revealed that a Memorandum of Understanding has been signed between the authorities of Dutch and French St. Martin, forging a bond for both sides to work together in efforts to market the island as one destination.