News & Media

Remediation Works begin at Princess Juliana International Airport- SXM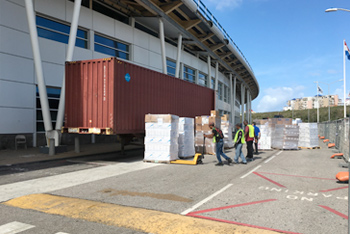 According to the SXM Airport Planning, Projects and Systems Control department (PPS), the Texas-based company, BMS CAT International, was contracted to carry out the mold remediation works. The mold was caused as a result of damages related to the 2017 hurricanes. The company will employ some 100 local workers for the clean-up project. It is at present recruiting said labor.
The procedure the company will use is called the Mold Remediation and Surface Removal Decontamination. Given the scope of the work and the possible health risks, there will be some Health and Safety officials onsite to ensure that all employees engaged in the restoration project follow proper safety techniques and practices set forth by SXM Airport and BMS CAT International.
The overall Terminal Reconstruction project consists of three packages. "Package One," is the first phase of the remediation works. During this process, BMS CAT International will clean all the mold contaminated items on the ground floor of the Terminal Building. It will also clean filters, light fixtures and any item that may have remained in the building after the internal demolition.
"Package One," of the project will also include the removal of the remaining wall partitions. All salvageable furnishing will be cleaned and sanitized for further use when operations are restored. The scope of the works will also include the installation of HEPA filtered air filtration units and portable humidifiers to dry any remaining wet building materials.
The Managing Board recently announced that the Departure and Arrival Operations will be temporarily transferred to the ground floor of the terminal building in the upcoming months. The airport operations will be carried out from the Baggage Claim up to the B-Gates areas in the Terminal Building.
Management expects that the remediation process will be completed in approximately six weeks or less.