News & Media

Live Bi-annual emergency Drill Exercise staged at SXM Airport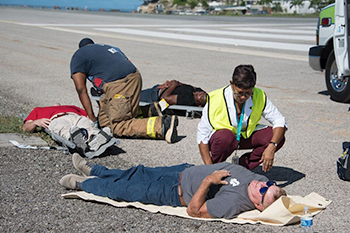 SIMPSON BAY, St. Maarten (Wednesday, October 30, 2019) - (Wednesday, October 30, 2019)— It was an eventful morning at the Princess Juliana International Airport - SXM for both the passengers and employees alike, as the Management of SXM Airport in conjunction with the St. Maarten Government Emergency Support Functions Department (Disaster Management) hosted its live bi-annual Emergency Drill Exercise at the airside on Wednesday, October 30, 2019 at approximately 9:06am. The large-scale drill exercise was executed in the proximity of the threshold 10 on the airport's runway.

The live Emergency Exercise is a standard requirement at airports and is sanctioned by the International Civil Aviation Organization (ICAO). The mandatory drill exercise also serves to evaluate the various emergency agencies response contingency plans and procedures should an aircraft accident occur, on or in the vicinity of the airport. The drill exercise also serves to test the quality and the abilities of the procedures as stipulated in the Emergency Management Manual of the Princess Juliana International Airport and other related contingency plans. The requirements of the St. Maarten Civil Aviation Authorities were also taken into consideration, as evaluators tested the competences of all emergency providers.

Prior to the emergency exercise, residents were forewarned by the SXM Airport's Corporate Communications department not to become alarmed, as the mock live drill response search and rescue operation involved heavy activity of rescue and firefighting, ambulance and police units.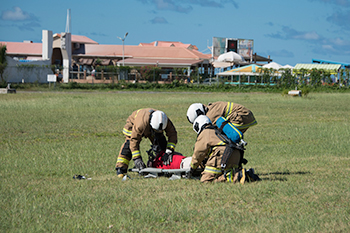 The "re-enactment" of the "large scale scenario" involved 125 passengers (7 crew members included) onboard a fictitious Boeing B-737 aircraft, as operated by a Dreams Vacation Airlines. Upon departure, the left main gear tire blew out causing the undercarriage to hit against the runway's surface. The impact caused a tear in the wing structure rupturing the fuel tank. Due to the velocity of the aircraft and the heavy friction against the asphalt, the leaked fuel was sprayed against the engine's exhaust, which caused it to ignite spontaneously. The scenario concluded that the impact had a severe effect on the fuselage, causing the main exits doors to be jammed shut as the port side was fully engulfed in a huge fire. The emergency exercise ended at approximately 9:55 AM.

In a requested statement on today's drill, the SXM Battalion Chief Fire Prevention Officer, Gerald Baptiste disclosed that the evaluation team will evaluate the various disciplines (RFF, Fire Department, Police, Ambulance) activities and the handling of the mitigation of the entire staged incident, as laid down in the Airport's Emergency Management Manual. "The exercise was successful, and was followed by a debriefing after the drill exercise.

All evaluators are required to submit their reports within a two weeks' timeframe and then the Airport Emergency Preparedness Committee will meet to review said reports and propose improvements where needed," summarized Mr. Gerald Baptiste