News & Media

Sister Regina Primary School Serenades Passengers at SXM Airport
St. Peters Youth Choir followed suit on Friday; more on Christmas Eve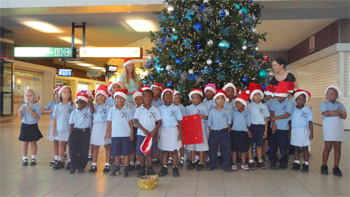 SIMPSON BAY, St. Maarten (December 21, 2012) - Who said serenading has gone out of style or is lost? The students of the Sister Regina Primary School in Simpson Bay not only brought back that much cherished St. Maarten tradition to the Princess Juliana International Airport on December 14 and 18, 2012, but received rave reviews from passengers and the entire airport community alike for their performance of popular Christmas carols.
The students were so good that several people offered them tips, which their teacher said she would use to buy some "goodies" for all of them.
Then on Thursday, December 20, it was the Joyful Ringers group that played its bell instruments, ringing in Christmas cheer at SXM Airport. The Joyful Ringers are scheduled to return for a pre-Christmas Eve performance at the Terminal Building, on Monday, December 24, from 1 PM to 3 PM.
On Friday, December 21, it was another group of serenaders, the St. Peters Youth Choir of the St. Peters Methodist Church that performed Christmas classics in song and dance at the SXM Terminal Building, from 1 PM to 3 PM.
"We really appreciate the talent, time and effort these young ones have put into reviving this St. Maarten tradition of serenading, and spreading Christmas cheer to all passengers and the entire airport community," said Regina LaBega, SXM Airport managing director. "Their serenading lifts up the spirit and puts us all in the Christmas mood."