News & Media

SXM Airport rebranding to be officially launched Saturday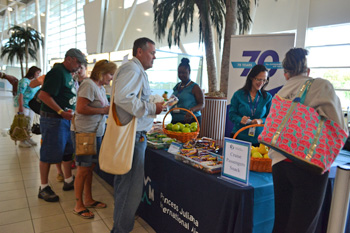 SIMPSON BAY, St. Maarten (January 31, 2013) - The Princess Juliana International Airport (SXM Airport) kicks off the celebration of its 70th anniversary with the official launch of its rebranding on February 2, 2013.
The rebranding includes a new logo and a new website - www.sxmairport.com - which is simple to navigate and which offers real-time information on arriving and departing flights.
The new website also features user-generated YouTube videos in the "Spectacular Landings" section that show the now award-winning world-famous approach.
The logo was inspired by the IATA designation code of the airport - SXM. It is eye-catching and easy to identify and remember. The logo was chosen by Princess Juliana International Airport based on a comprehensive review of how other airports around the world are named and identified.
"The whole rebranding project is aimed at re-positioning the Princess Juliana International Airport as a leading hub in the Caribbean and to promote our ultra-modern facilities and the quality of our services," said Regina LaBega, managing director of the Princess Juliana International Airport operating company (PJIAE).