News & Media

"SXM is PJIA and PJIA is SXM"
Speech by Regina LaBega, Managing Director, PJIAE, at the Official Launch of the Rebranding of the Airport, St. Maarten, February 2, 2013
Good evening.
There comes a time in the life of a corporate entity when it has to look itself in the mirror and decide whether or not to undergo a corporate make-over. We at Princess Juliana International Airport have taken a hard look at ourselves in the mirror and decided it was time to re-brand, especially after wearing the same look for quite some time.
The reason we are all gathered here today, therefore, is to officially unveil the new look of Princess Juliana International Airport; a new 21st Century look to replace the old one we have all gotten so accustomed to.
Re-branding is a universal phenomenon, which is common among businesses all over the world. Companies re-brand in order to remain relevant, keep abreast of the times, or to get an edge over the competition. Of course, others use re-branding as an effective marketing tool to erase negative images of the past that could affect their bottom line. For us, however, our whole aim is to re-position the Princess Juliana International Airport as a leading hub in the Caribbean and to promote our ultra-modern facilities and the quality of our services.
Branding is at the very core of an intrinsic intangible value investors attach to companies. According to Dr. Roger Sinclair, a global expert on brand valuation and brand equity practice, "A brand is a resource acquired by an enterprise that generates future economic benefits."
I would like to think that we have begun to reap those "future economic benefits," especially if we consider that it was a strong belief in the re-branding efforts of Princess Juliana International Airport that tipped the scales in our favor for Moody's to grant us a rating of Baa2. This, in turn, facilitated the underwriting of the bond issue of US$132 million by Nomura Securities International - one of the leading investment firms in the world - which we recently closed in New York. In fact, the bond issue was over-subscribed almost immediately, a clear indication of the confidence in the Princess Juliana International Airport brand.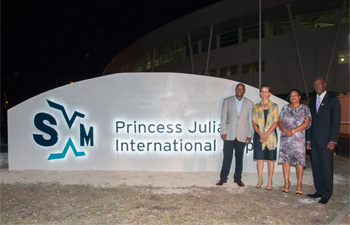 We have taken this critical step in the development of our airport in part as a response to increasing competition in a fast-changing market.
The re-branding is a comprehensive make-over, with a logo inspired in the IATA destination code for the airport - SXM - which is eye-catching and easy to identify and remember.
The new website - www.sxmairport.com - offers real-time information on arriving and departing flights and features user-generated YouTube videos in the "Spectacular Landings" section that show the famous landing approach for which we were just a few days ago voted number one in the world. The new website offers useful information about all the facilities and core services we offer as well as the diverse range of retail, food and shopping outlets. Similarly, it fully integrates social media with our Facebook page and Twitter feeds that are featured in the "On the Radar" section of the home page. We are, indeed, excited about our new look and hope that you will embrace it just as enthusiastically.
Ladies and gentlemen, may I conclude by recognizing the contributions of all those who have worked at this airport in the last 70 years; we are where we are today because of the strong foundation they have built. We kick off the celebrations of our 70th anniversary with this re-branding. SXM is PJIA, and PJIA is SXM. Long live SXM!
I thank you.