News & Media

SXM Airport Spreads the Love on Valentine's Day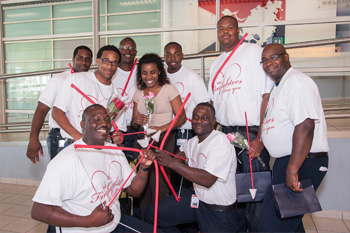 Simpson Bay, St. Maarten (Thursday, Feb. 14, 2013) - Arriving and departing passengers and other users were pleasantly surprised on Thursday, February 14, 2013, Valentine's Day, when the SXM Airport firemen turned cupids as they gave out candies and roses, with their bows and arrows slung around their necks.
Decked appropriately in white T-shirts with red lettering, many of the cadet firefighters were in high spirits as they spread the love at the Meet and Greet area of the Arrival Hall, and later upstairs at the Departure Hall, where saxophonist, Connis Vanterpool was an obvious hit.
Music was indeed the food of love as love ballads filled the air at the Arrival Hall, where the pianist from Soprano's Piano Bar entertained the people. He also provided lucky passengers with gift certificates for dinner for two at Soprano's restaurant. A Valentine's Day booth was also set up in the meet-and-greet area where flowers and teddy bears were on sale.
"It is the second year we have organized this event and it is obviously becoming bigger and better," remarked Audrey Jack, Senior Business Development Officer at PJIAE, the operating company of SXM Airport.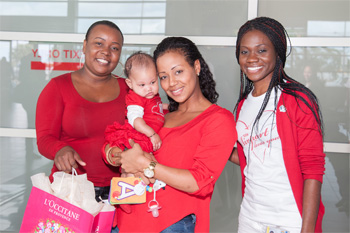 "This is a very nice gesture; I didn't expect it," said St. Maarten resident Mariel Smith, who received a bag of gifts from L'Occitane, one of the concessionaires at SXM Airport participating in the Valentine's Day promotion.
Sally and Chris Maro, a couple that have been visiting the island for more than 15 years were winners of a gift certificate worth US$100 from Ama Bella, a store that sells luxury items. "This is fantastic," they said, beaming with smiles as they received the envelope containing the gift certificate from Ama store manager, Pradeep Tewani.
Similar sentiments were expressed by Rev. Vernon Liburd, arriving with his wife Eunelda, after winning a beautiful gift basket from Penha. "This is a total surprise," said Rev. Liburd. "We certainly weren't expecting this."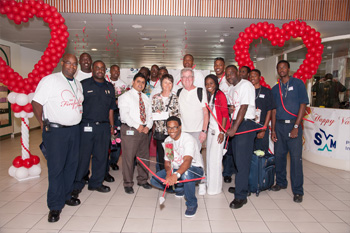 Penny and Joe Schmidt, a warm-hearted and lively American couple who have been visiting the island for the past 23 years were sad to be leaving, but elated to have won another gift certificate from Ama Jewelers, which they were able to redeem before their flight was called.
"We're taking a bit of St. Maarten sunshine back home with us and now some glitz also," said a well-tanned Mrs. Schmidt. Her husband, Joe, had one word for the Valentine's Day surprise: "fantastic." They promised to be back again next year. "We choose the winners randomly," explained Ms. Kalifa Hickinson, Manager, Marketing & Communications at PJIAE. She announced the additional winners of the other give-aways as Ms. Carmen Tyson, a resident of St. Maarten who was en route to New York. Ms. Tyson received a necklace from Capri Italian Fashion just after clearing security at the Departure Hall.
According to Hickinson, Mr. and Mrs. Leonardo Haynes of St. Eustatius were the lucky winners of a trip for two to any destination Air Sunshine services. Air Sunshine is the newest addition to the scheduled carriers at SXM Airport. It began service on February 1, 2013 and flies to Tortola, Virgin Gorda, St. Thomas, San Juan and Dominica.
"Our Valentine's Day promotion is another event we hope will make the 'experience move you' at SXM Airport," added Ms. Hickinson.