News & Media

No Parking along SXM Airport fence
Work has already begun to erect new guardrails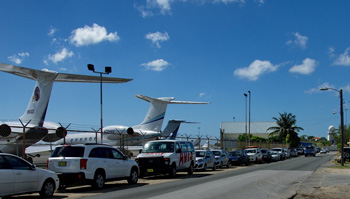 SIMPSON BAY, St. Maarten (February 18, 2013) - No vehicles will be allowed to park here alongside the SXM Airport's fence, according to a decree to that effect issued by the Minister of Justice, the Hon. Roland E. Duncan. The decree is in keeping with the International Aviation Safety requirement established by the International Civil Aviation Organization (ICAO), in its Standards and Recommended Practices document.
On Monday, contractors started to remove the existing guardrails in order to install new railing at 1.5 meters from the road, to be in line with the new guardrails. They will continue preparations for the installation of the new guardrails, which are expected at the end of the month. The entire work is scheduled for completion by mid-March.
The contractor, MNO, has already begun digging holes along where the guardrail poles will be installed to check if there are any cables or pipes where they plan to install the poles.
The ICAO requirement prescribes that "Security fence lines should be kept clear of all obstruction such as electric poles, trees, stowed equipment and materials, vehicles, etc..."
"The Princess Juliana International Airport operating company (PJIAE), in order to comply with this international security measure, had requested the Minister of Justice to issue the necessary ministerial decree.
The airport has also requested the Ministry of Works, Spatial Planning and Environment (VROMI), to place the relevant traffic signs to inform the general public about the parking prohibition. This is a requirement before the ministerial decree can go into effect.
"VROMI has ordered the traffic signs and these will soon go up at strategic points along the airport road," confirmed Robert Brown, PJIAE's Coordinator of Special Projects.
Brown explained that the guardrails will be erected over approximately 900m on the eastern side of the SXM Airport road to further discourage parking along the fence. He said the contractor will be using the Blue Martini location to park their containers and equipment for the project period and possibly also in front of the Al Wathey Apartments (if necessary).
In the meantime, all of the car rental companies will receive a letter informing them of the work, and offering a contact person for any questions.
About 50 cars, mainly belonging to car rental companies, are usually parked along the airport fence.
"We have space for car rental parking at a fee," Brown said.
Vehicles violating the No Parking order will be towed away at the owners' expense.