News & Media

SXM Airport Sets up Dozen Self-Service Check-in Kiosks for Passengers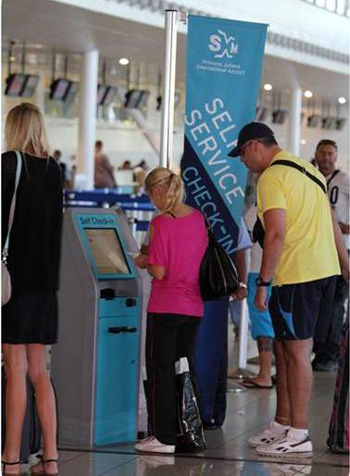 SIMPSON BAY, St. Maarten (March 1, 2013) - As part of its program to improve service, cut down on long lines at check-in counters, and enhance passenger experience, Princess Juliana International Airport (SXM), has installed 12 self-service check-in kiosks or Common Use Self Service (CUSS) kiosks. Eleven of the check-in kiosks are in the Departure Hall and one in the Transit Area.
According to Larry Donker, Director of Operations at PJIAE, the program began some two years ago, however, in the last couple of days alone, the use of these kiosks has grown tremendously by passengers.
"The airlines themselves are very happy to promote the use of these kiosks by their passengers because it reduces the long lines at the counters and also the check-in time," Donker explained.
Besides, he noted, modern passengers like to feel more empowered to check-in themselves.
SXM Airport and the airlines are responding to passengers' wishes with these new kiosks by providing more self-service options, Donker said.
The installation of a series of Common Use Self Service (CUSS) kiosks will allow passengers to perform an automatic check-in, cutting down on check-in time by more than half for passengers with check-in luggage and offering an even quicker option for those without any check-in luggage, he added.
"By introducing CUSS kiosks we are providing faster check-in for our passengers, and also reducing queues at check-in desks. The common use kiosks can be used by any of the airlines to offer check-in to their passengers; ensuring that both our passengers and our airline customers receive the highest level of service. By providing common-use kiosks we can accommodate the extra flow of travelers during peak hours," Donker said.
Six carriers that service the destination - Air France, KLM, Delta, American Airlines, US Airways, and Caribbean Airlines – are featured on the self-service kiosks.
Donker explained that this is so because "the airlines have to have agreements with SITA, a Europe-based organization that specializes in air transport communications and information technology."
Established in 1949, SITA (Société Internationale de Télécommunications Aéronautiques), offers its services to almost 3,000 customers that include airlines, airports, and governments in about 200 countries and territories all over the world. The kiosks are simple to use: all the passenger needs is his or her passport and the ability to follow the instructions that appear on the screen. However, in case additional assistance is required, airlines normally have a staff at hand to offer such.
"This is part of our strategic plan to take the airport to a new level by modernizing every aspect of our operations," concluded Donker.