News & Media

PJIAE Board Member Asks Bosch Security Systems to Consider St. Maarten for its Scholarship Grants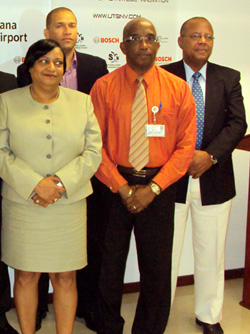 SIMPSON BAY, St. Maarten (March 3, 2013) - As Member of the Supervisory Board of Directors of the Princess Juliana International Airport operating company (PJIAE), Cleavland Beresford made a plea here to Bosch Security Systems, the supplier of security cameras to consider St. Maarten for its scholarship grants, which it offers through its foundation.
Beresford made this plea at a press conference held last Wednesday at the presentation of the new, expanded and improved security system for SXM Airport.
According to Bosch engineer and trainer, Scott Glidden, the global manufacturer and supplier of security, safety and communications products and solutions, the 126 year-old company is managed as a foundation. He said the seven descendants of founder Robert Bosch share in about 7% of the profit.
"The rest of that money goes to charitable contributions, disaster relief; grants for education to those who can't afford it, and to a number of charities around the globe," Glidden disclosed.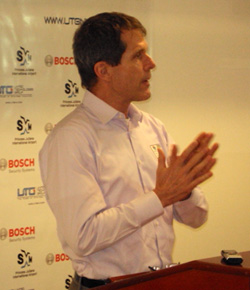 Glidden further stated that the investment made by PJIAE in SXM Airport security gear, will be put back into the world for good. "So, we're not just a corporate numbers-driven organization, we're an organization that looks at the world and gives back to it."
Beresford, noting that Bosch has been in St. Maarten for some time now and has anchored its position in preparation for future growth, expressed the hope that the company would "take St. Maarten into consideration for future grants." This was met with a nod of approval from Glidden who said he would certainly convey this request to his superiors.
At the press conference were Justice Minister Roland Duncan, PJIAE Managing Director, Regina La Bega, Deputy Chairman of the Supervisory Board of Directors of PJIAE, Marion Matser and member Cleavland Beresford, as well as top executives of the St. Maarten Chamber of Commerce, and directors and other staff of PJIAE.