News & Media

Casino Controllers Hand GEBE First Loss in Two Years to Clinch Softball Knockout Title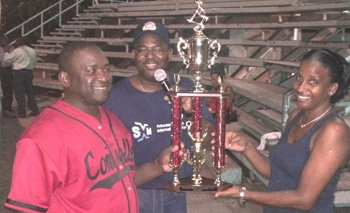 SIMPSON BAY, St. Maarten
(October 3, 2013) - The Casino Controllers softball team brushed aside defending champions GEBE on their way to clinching this year's title as the Softball Business Knockout Competition organized by the Sporting Club of the Princess Juliana International Airport came to an exciting end over the weekend.Eight teams took part in the annual tournament, which Evans Marsham of the SXM Sporting Club described as "once again a great success."
"The games were very friendly and with a lot of sportsmanship," he added.
"Most of the teams are already looking forward to the next tournament, seeing that GEBE wasn't able to retain the championship this year," Marsham said.
He continued: "I would say the highlight of the tournament was the game between GEBE and the Government Casino Controllers that went into extra innings, and which was finally won by the Casino Controllers thus giving GEBE their first loss in the two years the tournament has been organized."
The SXM Airport Softball Team were runners up while GEBE took third place.
The business teams participating in the knockout included the Windward Islands Bank Ltd., Caribbean Liquors, Nagico Insurances and three government departments – the Fire Department, Casino Controllers, and Civil Servants with the host, SXM Airport completing the roster.