News & Media

SXM Staff Completes Protocol and Customer Service Course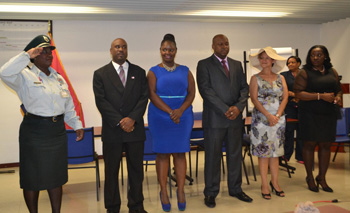 SIMPSON BAY, St. Maarten
(October 3, 2013) - Some 19 employees of the Princess Juliana International Airport (SXM) recently completed a training course in Protocol and Customer Service. Participants in the course were drawn from the Marketing & Customer Services Department, the Executive Lounge, the Security Department and the Quality Assurance Department.
Norma Brill, Manager of Human Resources, noted that those selected to attend the training were "either directly involved in customer service, in any form, and/or … would at one point or the other, have some contact with high government officials on specific occasions."
Indeed, management's decision to organize the course was a result of the frequency of visits to the airport and to functions at the airport by government officials, both from St. Maarten/St. Martin and foreign.
According to Suzy Kartokromo, Acting Manager, Marketing & Customer Services Department, "the objective of the Protocol training was firstly for attendees to become familiar with the "rules" by which official and state affairs are conducted, locally and internationally. These rules are governed by "The Vienna Convention on Diplomatic relations," established on April 18, 1961."
She said participants were trained in understanding "Precedence" (ranking of persons at ceremonial functions), the various dress codes, various types of events (state banquet, state visit, etc.), National emblems (Coat of Arms, flags, etc.), titles and forms when addressing VIPs (e.g. Your Excellency for Governor), treatment of VIPs, matters related to VIP events (invitations, arrival and seating of VIPs, receiving line, official programs, etc.) and the do's and don'ts associated with this subject. Kartokromo said of particular importance was the "flag precedence."
SXM Airport Managing Director, Regina LaBega, revealed that the airport will look into establishing "a policy 'across the board' on protocol, along with its airport partners, especially airlines."
The second part of the training dealt with "The Essentials of Service." Customer Service was defined as "the sum total of what an organization does to meet a customer's expectations and produce satisfaction."
"With customers' expectations increasing, we must realize that a customer's relationship with an organization could last for years, as the experience could be made up of different aspects, provided at different times before, during and after a purchase, for example, noted Kartokromo. Branding, as part of this experience, is an important element, she added.
The experience with immigration officers at the airport was singled out during the course. "As the 'gatekeepers' to St. Maarten, we must address this matter, sooner than later," Kartokromo remarked.
She also said participants were required to come up with a Customer Service vision that would reflect the proposition, "Stakeholders committed to genuinely and professionally anticipating the needs and exceeding the expectations of its customers, thus enhancing the overall experience to make it legendary."
The final day of the training, which appropriately coincided with World Tourism Day, saw participants putting into practice what they had learned in role-playing situations.
Kadina Hodge, hostess at SXM Airport's Executive Lounge, said the protocol training was "very informative. It was a good experience."
Another participant, Elsidro St. Jago, Section head of Security Guards, found the protocol training "very enlightening."
"I have never been in a class before in my life that was so energetic, positive, and creative," St. Jago said.
He described the training as "very, very informative, practical, and meaningful," not only for participants, but for the company as a whole as it pertains to protocol requirements. St. Jago said he now has a totally different view of the expressions, "work ethic, etiquette, and protocol procedures," as a result of the training.
All the participants received certificates from SXM Managing Director Regina LaBega, who was accompanied by the course instructors Vernetta Calvin-Smith and Azra Nathudkhan, protocol consultant and director respectively of Customer 1st Caribbean Ltd.