News & Media

SXM Steps Up to Assist Stranded Carnival Cruise Ship Passengers
SIMPSON BAY, St. Maarten (March 14, 2013) - Stranded passengers of the Carnival Dream cruise ship that stalled in port at the Dr. A.C. Wathey Cruise and Cargo Facilities on Wednesday, began their journey back home Friday, March 15, 2013 – by air, and the Princess Juliana International Airport (SXM) has stepped up to the plate to ensure that their departure is as seamless as possible.
"We swung into action immediately to accommodate the thousands of passengers of the cruise ship who now have to be evacuated through SXM," said the PJIAE Managing Director Regina LaBega.
"The entire management and staff of SXM has been mobilized to guarantee that everything is done to put a little smile on the faces of the stranded passengers following this unfortunate situation," LaBega added.
"Team SXM will be offering complimentary breakfast and lunch for the passengers from a branded station with tables and banners, which will be erected in a central area of the terminal building for maximum visibility to all passengers," she disclosed.
Director of Operations at the airport, Larry Donker, confirmed that he had been updated about the plans to fly out approximately 4,400 passengers via chartered flights operated by Delta Airlines by Carlos Garcia of Carnival Cruise Lines early on Thursday and SXM immediately offered its full cooperation to ensure that the efforts would not encounter any hiccups.
A team of 20 Carnival Cruise Lines officials arrived Thursday at SXM to assist with the evacuation plans.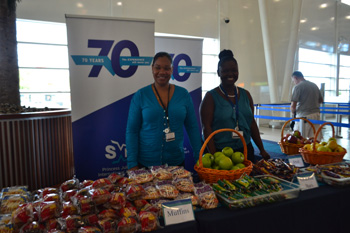 "We have decided to keep the airport open later than usual, and rearranged our flight schedule among other measures to assist with the evacuation," Donker said.
The Air Traffic Service (ATS) managers have been duly briefed about the situation while the stand-by controller for the night shift has also been informed and the schedule adjusted to accommodate the early departure and arrival of airlines for Friday, Donker added.
The required manpower has been mobilized to meet this unusual surge in passengers leaving the airport in a day.
"Our main concern is to ensure a time coordinated drop off of passengers with confirmed seats only on these flights," Donker said.
The first flight to leave with some of the stranded Carnival Dream passengers will be Delta Airlines flight 8857, departing SXM on Friday at 9 AM. A total of ten Delta Airlines flights are expected to ferry some 2,184 passengers out of SXM almost on an hourly basis throughout Friday.
On Saturday, another six Delta Airlines flights are scheduled to shuttle 1,318 passengers out of SXM with the last batch of 986 passengers due to leave on four different Delta Airlines flights on Sunday.
"This is a very unusual situation and SXM is determined to ensure that despite this, the passengers should leave believing that there could be no better destination to be stranded on than St. Maarten," Labega said.