News & Media

ToppiX Aviation Photography Competition to Start Earlier than Scheduled
Organizers see Carnival Dream passenger evacuation as extraordinary photo ops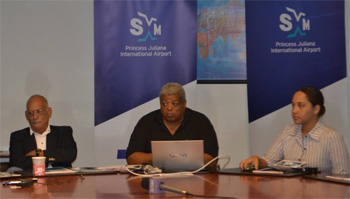 SIMPSON BAY, St. Maarten (March 15, 2013) - With over 20 extra flights due to touch down at the Princess Juliana International Airport (SXM), this weekend to shuttle out over 4,400 stranded passengers of the Carnival Dream cruise ship, which stalled Wednesday at the Dr. A.C. Wathey Cruise and Cargo Facilities as a result of a generator malfunction, organizers of the ToppiX 2013 Aviation Photo Competition have decided to modify the rules of the competition slightly.
"We have decided that photos taken from March 15, 2013 through March 17, 2013 can also qualify for the ToppiX2013 Aviation Photo Competition," said Robbie Cijntje, organizer of the competition.
Recognizing that there will be what he termed an "extraordinarily large amount of charter flights into Sint Maarten this weekend from Friday, March 15 through March 17, 2013," Cijntje said this will present "very, very rare and extraordinary photo opportunities."
"Our information shows a minimum of 20 extra flights ranging from B-737 through B-767 aircraft.
"Seeing the obviously heavy traffic into and around the airport, we have decided to cancel the planned cocktail party on Sunday, March 17, 2013. However our briefing on Monday 18, 2013 at 08 AM at the Sunset Beach Bar will continue as planned," he added.
SXM is one of the major sponsors of the competition, the first of its kind in the Caribbean, offering a cash prize of US$2,500 to the overall winner. The competition, organized under the theme, "St. Maarten: Aircraft Spotters' Paradise" was originally scheduled to be held here from March 17 - 22, 2013.
The best six photographs chosen by a panel of judges who are professionals in the field, will be on display at the airport for four months. The winners will be announced at a prize-giving ceremony on March 23, 2013, and the overall winner or his or her legal representative must be present at this ceremony to claim the prize.