News & Media

Over 1,000 Stranded Carnival Dream Passengers Airlifted Out of SXM Friday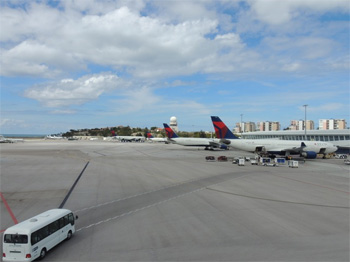 SIMPSON BAY, St. Maarten (March 15, 2013) - Over 1,000 stranded passengers of the Carnival Dream cruise ship were airlifted out of the Princess Juliana International Airport (SXM) on Friday on charter flights operated by Delta Airlines.
According to the Director of Operations at SXM, Larry Donker, everything went "very well" given the circumstances.
Donker expressed appreciation for the cooperation between SXM and representatives of Delta Airlines to ensure a smooth evacuation of the passengers. Carnival Cruise Lines also had several personnel at the Terminal Building throughout the day to assist passengers with the check-in process.
"At SXM, we had all hands on deck to ensure that the whole operation was seamless," Donker said.
He confirmed that an additional 1,400 passengers are expected to be shuttled out of SXM on seven Delta Airlines charter flights Saturday, March 16, 2013.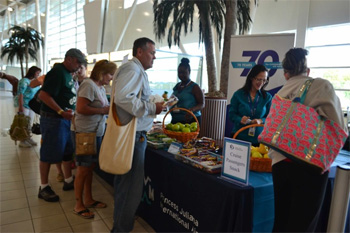 Throughout the day, reporters from US news organizations such as NBC, CBS, and ABC were seen in the Terminal Building interviewing passengers.
Overall, the passengers seemed upbeat and in high spirits. They were offered complimentary treats at the airport courtesy of SXM and all of the affected Carnival Dream passengers received a 10% discount on all purchases at the airport's retail and Food and Beverage outlets.
This was an emergency situation and we had to put our best foot forward to ensure that the passengers had an experience that would move them to consider returning to our island in future for a more relaxed and enjoyable vacation," said PJIAE Managing Director Regina LaBega.
"I must express my heartfelt appreciation to all the management and staff of PJIAE and all the other agencies that collaborated in making this first day of the evacuation such a huge success," LaBega said, adding, "We will ensure that these efforts continue until the last passenger is departed safely to his or her home."