News & Media

SXM Airport Backs Fireman's Ball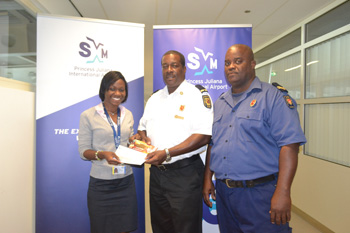 SIMPSON BAY, St. Maarten (March 27, 2013) - The Princess Juliana International Airport (SXM) is backing the annual Fireman's Ball of the Friends of the Island Government Firefighters Foundation (FIGFFF). The group is celebrating its 50th anniversary this year.
To this end, the Firefighters Foundation will be organizing events throughout the year. The contribution given by SXM will go toward the biggest event planned for the anniversary year, the Fireman's Ball.
This contribution is in keeping with the Airport's policy of encouraging and assisting where possible, meaningful community initiatives.
Besides, the airport's Rescue and Fire Fighting Department has a good working relationship with its counterpart at the Government Fire Department. SXM Airport's firefighters will be attending many of the events planned in celebration of the 50th Anniversary of FIGFFF, said Kalifa Hickinson, Marketing Manager at SXM.
"We also thought it a good idea to partner with FIGFFF for its largest event since we are also celebrating our 70th anniversary this year," she added.