News & Media

Inside the Winners' Circle of Toppix 2013 Aviation Photo Contest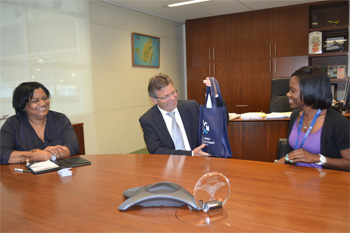 Capital Improvement Projects, Departure Fee to BES islands
SIMPSON BAY, St. Maarten (April 1, 2013) - The Representative of the Netherlands (VNP) in St. Maarten, Gert Versluis, last Thursday paid a courtesy visit to SXM Airport Managing Director, Regina LaBega. It was his first official visit to the airport. SXM Airport Marketing Manager, Kalifa Hickinson sat in at the meeting.
LaBega briefed the Dutch Representative about the several ongoing Capital Development Projects the airport has embarked on, including the Runway Rehabilitation Project, the new retail strategy, acquisition of properties and other strategic initiatives aimed at expanding the facilities and services of the airport and to maintain its all-important hub function.
The meeting, which lasted about an hour was, according to LaBega, "cordial and pleasant."
"It was quite interesting to note that Mr. Versluis has had some experience in the industry," she said. "This made the discussions even more focused and meaningful."
Regarding the runway, LaBega disclosed that the rehabilitation project is now in progress and is scheduled to be completed in the first week of October 2013.
She also indicated that the implementation of the new retail strategy is in full swing, the objective being to increase non-aeronautical revenue and boost earnings for the concessionaires at the same time, while improving passenger experience.
Versluis mentioned that at Schiphol, non-aeronautical revenue is more than revenue derived from aeronautical sources. In actual fact, it represents some 70% of total revenue. For SXM, the goal is to raise non-aeronautical revenue to about 28% of its total income.
The Dutch Representative then brought up the issue of the airport departure fees (ADF) for the BES islands, particularly Saba and St. Eustatius, which he termed "unreasonable."
LaBega strongly contested this, pointing out with facts and figures that not only are they reasonable but that Saba and St. Eustatius are still treated preferentially compared to the departure tax paid by passengers to St. Barths and Anguilla.
With the dissolution of the Netherlands Antilles in 2010, what used to be considered "domestic" flights ceased to exist. However, the former "domestic" passengers pay a departure tax of US$20 compared to US$35 paid by those bound for St. Barths and Anguilla even though the latter two destinations combined make up about 15% of the total passenger movement at SXM, while passengers to Saba and St. Eustatius account for less than a quarter of one percent.
Stressing the hub function of SXM, LaBega said the airport strives to serve its clients optimally, while maintaining and even expanding market share, which are defined by financial performance and customer satisfaction.
The need to maintain market share is underlined by the recent loss of Fixed Base Operation (FBO) business to St. Kitts due to inadequate parking space for private jets at SXM as well as challenges in the supply of fuel. LaBega explained that the planned relocation of the current FBO building and of the fuel farm is aimed also at ameliorating the situation.
She further discussed the acquisition of new property, indicating that an environmental impact study was conducted to determine the opportunity to further acquire property, given that like most airports, improvements and expansion are critical for which additional property is often required.
For his part, Versluis earlier congratulated the airport for its recent bond issue, which would facilitate all these projects. He indicated also that while at Schiphol, he had experience with Schiphol Self Service Passport Control. This allows passengers holding a biometric passport to process their immigration control themselves.
SXM is interested in making this possible, LaBega stated, in collaboration with the tourism and justice ministries "as it is innovations like these that will enable airports to provide passengers with a relaxed and enjoyable travel experience."
"Quality time and experience at airports are important. Passengers today want to be their own travel managers," LaBega noted.