News & Media

SXM Rolls Out Red Carpet Support for Carnival Queen Pageant Contestants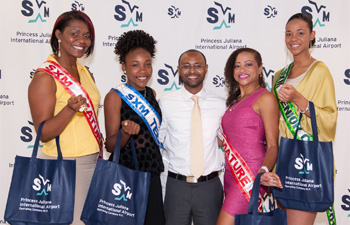 SIMPSON BAY, St. Maarten (April 15, 2013) - When Carnival royalty calls, the Princess Juliana International Airport (SXM) can only respond by rolling out the red carpet of support. And so it was with five contestants for the Teen, Senior and Mature Queen Pageants who are the recipients of SXM sponsorship.
"On behalf of the board of the SCDF allow me to express gratitude for the way SXM Airport has stepped up to assist our contestants again this year. Their preparations are costly affairs and any amount from corporate sponsors will go a long way. Thank you for being a dedicated partner of Carnival," stated president of the St. Maarten Carnival Development Foundation (SCDF), Michael Granger.
"That partnership is an expression of our corporate policy of supporting whenever possible activities that reflect the cultural enhancement of St. Maarten, especially during this year of the celebration of our 70th anniversary," said Regina LaBega, managing director of SXM.
"We are happy to once again team up with the SCDF in making Carnival the major event it has become on our cultural calendar," LaBega added. "We also wish all the participants in the various pageants the best of luck as they continue to showcase the very best in our womanhood."