News & Media

SXM Airport, Stakeholders Start Talks on Air Service Maintenance and Development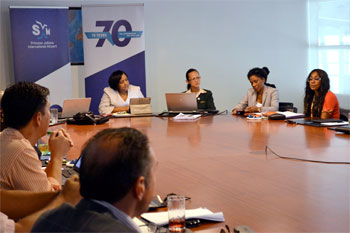 SIMPSON BAY, St. Maarten (May 15, 2013)— What is the way forward in maintaining and further developing airlift to St. Maarten? That was the key question addressed by stakeholders and management of Princess Juliana International Airport (SXM) at a 4-hour forum held Tuesday, May 14, 2013, at the boardroom of the airport.
Welcoming the stakeholders to the meeting, managing director of the airport, Regina LaBega recalled that the last air service maintenance and development plan was done in 2004 and pointed out that a new one was therefore overdue. To this end, SXM Airport has commissioned El Perial Management Services to carry out the study.
LaBega gave a brief overview of SXM's air travel market, revealing that of the 1.6 million passenger movement recorded last year, 85% of this consisted of visitors while the remaining 15% was made up of residents. According to her, 49% of passengers traveled within the key five months from December to April, with scheduled air service making up 95% of the total airlift to the island.
The SXM managing director further disclosed that a draft Memorandum of Understanding (MOU) for pre-clearance of passengers bound for Anguilla and St. Barths is currently under discussion, while SXM personnel attended a training session last week in Aruba in connection with sharing immigration information with SITA.
In his presentation, Ian Bertram, principal of El Perial Management Services, stated that his company would be looking at where SXM Airport is at present, its competitive positioning against selected airports, and the potential direction for air service development over the next five years.
He further remarked that SXM could serve as hub airport for Dominica, Nevis and even Tortola. The hub partners, he stressed, should see SXM as their airport, arguing that it was much more cost effective for them to do so, rather than the alternative of embarking on developing an international airport that could carry a minimum price tag of US$60 million, without any guarantee that they could maintain it or attract enough passengers to make it a viable proposition.
The consultant made a strong plea for regional airport integration, pointing out that Antigua and St. Kitts need not be competitors for SXM. "We need to stop thinking of ourselves in terms of our colonial heritage and start seeing ourselves in terms of our geographic location," Bertram stressed.
Calling for an open sky policy throughout the region, Bertram emphasized that a hub airport thrives in an open sky environment. "A whole lot of policy implications is involved in this," he noted.
Louis Halley, head of the Department of Civil Aviation & Shipping & Maritime Affairs, disclosed that at present St. Maarten has open skies agreements with Canada, the USA, and Antigua, however, similar agreements are not in place with other regions such as South America.
The island's and regional airlines at the Tuesday meeting, namely WINAIR and LIAT, stated that they are definitely in favor of open skies as long as there is a level playing field in that regulations they must follow, must also be adhered to by the carriers of other nations. Their main concern was about cabotage. According to Bertram, open skies agreements would allow for more opportunities with the rest of the eastern Caribbean, which would facilitate SXM's hub function.
Saro Spadaro, President of the Maho/Sonesta Group, emphasized that in his opinion, the key to an effective hub is not only open skies, but open (free) movement of people and goods.
In his own contribution, SHTA President, Emile Lee, questioned whether there is a point where the improved hub function could become detrimental to Dutch SXM, expressing the concern that St. Maarten might not benefit much from being a hub if most of the passengers passing through it are headed for St. Barths and Anguilla, for example. He said he hoped SXM's goal was to develop the market by increasing airlift at the lowest possible cost. SXM managing director, Regina LaBega explained that precisely to achieve that, SXM is seeking to lower aeronautical fees while reasonably increasing its non-aeronautical revenues.
The forum ended on a very positive note with participants agreeing to the establishment of an Air Service Committee to be formed by senior personnel of the airport authorities of the hub clients as well as St. Maarten and regional stakeholders. SXM Airport will take the lead in this regard.