News & Media

Amerijet International's 767 Cargo Jet Makes Maiden Landing at SXM Airport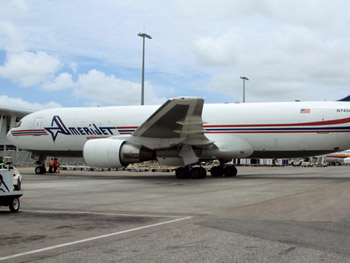 SIMPSON BAY, St. Maarten (May 22, 2013)— Almost unheralded, Amerijet International touched down with its Boeing 767-200 cargo jet at the Princess Juliana International Airport (SXM) Wednesday, May 22, 2013, about 10 minutes ahead of a scheduled noon arrival.
It was the maiden flight of the cargo aircraft, one of five in Amerijet International's fleet of 767-200 freighter aircraft. The company had before now been servicing the destination with its 727-200 cargo planes. The 767s will allow the carrier to increase capacity on its scheduled service routes, and expand its charter availability.
The flight began in its hub at the Miami International Airport and made a stop in Port of Spain, Trinidad before arriving at SXM Airport. From here it was scheduled to depart for St. Kitts and later St. Thomas and another Caribbean stop before heading back to base in Miami.
According to an official of the ground handlers, the huge cargo plane delivered drilling equipment and other cargo to Trinidad but brought mainly perishable goods for the hospitality sector in St. Maarten.
The official could not confirm if the 767 cargo plane would henceforth be making regular deliveries to St. Maarten.
Amerijet started operations in 1974 and has since provided cargo transportation services to more than 550 destinations worldwide.
Commenting on the 767 flight, managing director of Princess Juliana International Airport (SXM), Regina LaBega said she welcomed the use of this large cargo plane as a larger capacity aircraft to adequately service the St. Maarten market.
"It also falls within our strategic plan of making SXM Airport a major cargo handling hub for the sub-region," she added.