News & Media

Five SXM Airport Staff Start Course to Become Aeronautical Information Officers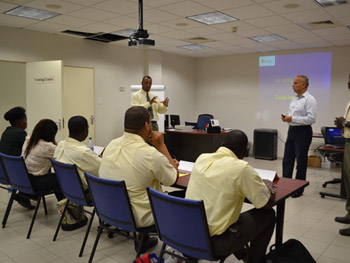 SIMPSON BAY, St. Maarten (May 22, 2013)— Five Flight Information Officers of the Princess Juliana International Airport (SXM) began a six-week training course this week in Aeronautical Information Service and Aerodrome Flight Information Service. The course is scheduled to end on June 28, 2013.
At the completion of the course, the five Flight Information Officers will become certified Aeronautical Information Officers and will qualify to assume the responsibilities of a full AIS office. At present St. Maarten does not have such an office whose tasks are currently being handled by the one in Curacao on a service level agreement.
The training is being conducted by three recently qualified St. Maarten ATS instructors under the guidance of Gabriel Virlan, a qualified and experienced ICAO instructor who was contracted by SXM Airport because it is a requirement for new instructors to conduct their first complete official training course under the supervision of a more experienced one.
The curriculum covers a major part of the Basic Air Traffic Controller's course and will be credited to candidates who go on to become Air Traffic Controllers.
Subsequent to the course, instructors will be able to conduct the training on their own with the approval of the St. Maarten Civil Aviation Authority. Once this is achieved, the intention is to provide the training to Flight Information Officers of Saba and St. Eustatius within the year. Negotiations are ongoing in this regard.
Providing the course to external entities will offset the cost of the training for SXM Airport and is a step toward the establishment of SXM's ICAO certified training academy. This will result in significant financial benefits for the airport in terms not only of air traffic related training but also in all aviation-related training in St. Maarten and internationally as well as in reducing the operational cost of Air Traffic Services.