News & Media

SXM first Caribbean Airport to Receive International Transport Award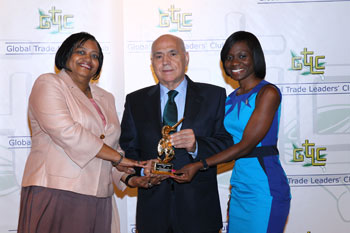 SIMPSON BAY, St. Maarten (Wednesday, May 22, 2013 Princess Juliana International Airport (SXM) became the first ever Caribbean airport to receive the International Transport Award given by the Global Trade Leaders' Club (GTLC) since the award was established 15 years ago. It was also the only airport to receive the award this year out of a total of 15 awardees.
Receiving the award on Monday, May 20, 2013 in Madrid, Spain, was managing director of the airport, Regina LaBega, who was accompanied by Corporate Communications Specialist, Kalifa Hickinson.
At the awards ceremony, Mr. Ricardo Roso Lopez, Secretary General and CEO of GTLC, introduced each CEO receiving the award and gave him/her the opportunity to introduce his/her company, the country where it is located and an overview of the main services the company provides.
In her address to a full hall of CEOs, government officials, and other dignitaries, Ms. LaBega proudly represented not only SXM Airport, but also St. Maarten as a destination and the hub islands it serves.
"I bring you greetings from the Friendly Island of St. Maarten, a 37 square mile slice of Paradise which, in many respects, can be called the capital of the Caribbean, with non-stop gaming as intoxicating as in Las Vegas; with a gastronomy that is as delightfully varied as in Madrid or Paris; with beaches that are a sublime stretch of golden sands, washed by a turquoise blue sea… St. Maarten is an island where the sun smiles all year round and where you can speak English, Spanish, French, Dutch, Papiamentu, Creole and be understood at the marketplace as well as at government offices!" LaBega said.
She continued: "Our airport is not only the gateway to this side of Paradise, it is a major regional hub servicing neighboring islands like St. Barths, Anguilla, Saba, and St. Eustatius.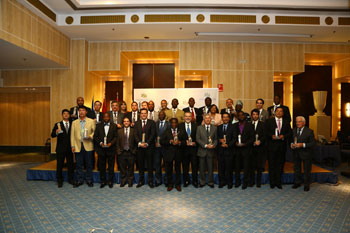 "Coming from just being voted the "World's Most Stunning Approach," she said, "you cannot imagine how thrilled we at Princess Juliana International Airport are with this award, especially given that we are celebrating our 70th anniversary this year. As a matter of fact, the entire island of St. Maarten is excited at this recognition."
LaBega concluded by inviting the organization to consider St. Maarten as a possible host of the awards ceremony in future, "in consonance with your global outlook."
SXM Airport was recognized for "the quality and excellence" of its services, according to GTLC. SXM Airport was presented with a golden trophy that reads: "International Transport Award, Madrid 2013 Spain, Princess Juliana International Airport." The airport also received stickers for promotional use, an exclusive membership database, a DVD of the ceremony as well as posters of the award that will be placed in the terminal building.
As a thank you, SXM Airport provided branded tokens of appreciation to the organizers which included HD video of the airport and its facilities.
At the ceremony, SXM Airport was a clear favorite. Delegates were eager to learn more about St. Maarten and the SXM Airport facilities, and some even vowed to visit the destination in the near future with their families.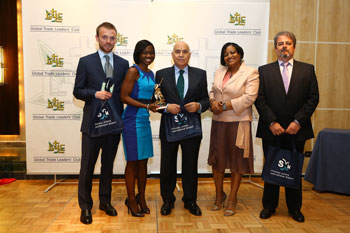 The 14 other companies receiving the International Transport Award hail from Nigeria, Mexico, Ghana, Indonesia, Benin, Togo, Tunisia, Portugal, Romania, Guinea Conakry, and Uganda, and represent various types of transport companies including logistics and mass transit companies, as well as the Uganda civil aviation authority.
In a letter to the awardees, Mr. Lopez described the 35 year old Global Trade Leaders' Club as "the first club of its kind that has been created exclusively for the promotion of trade relation among businessmen from all over the world and who are linked by the fact that they have all been awarded with GTLC trophies for being leaders of trade or industry within their respective countries."
Member companies recommend other companies (whether they are member companies or not) annually for the International Transport Award. Once the same company receives nominations from at least three different member companies, that company becomes eligible for the award.
SXM Airport, as a recipient of the International Transport award, will now become a member of the Global Trade Leaders' Club, which boasts membership of over 7,500 companies worldwide.