News & Media

LaBega, Voges Discuss Dutch Concerns with Transport to Saba and Statia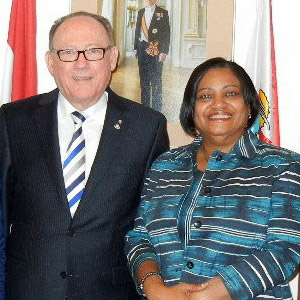 Simpson Bay, St. Maarten (May 25, 2013)— Departure fee charged to passengers bound for Saba and St. Eustatius, the hub role of Princess Juliana International Airport (SXM) for these islands and the landing of emergency helicopters from both BES islands were among issues SXM Airport managing director Regina LaBega discussed with St. Maarten Minister Plenipotentiary in The Hague, Mathias Voges when she paid a courtesy call on him Friday, following her trip to Madrid, Spain where she received the International Transport Award on behalf of the airport. LaBega traveled with her Corporate Communications Specialist, Kalifa Hickinson.
Voges, who was accompanied at the meeting by the director of his cabinet, Perry Geerlings and Carol Voges also of the St. Maarten House in The Hague, explained the functions of the Minister Plenipotentiary and briefed LaBega on the recent talks the St. Maarten representatives have been having with the Dutch government, including transport.
As she had done when she received the Representative of the Netherlands (VNP) in St. Maarten, Mr. Gert Versluis in March, LaBega explained that SXM Airport had already given consideration to the fact that the BES islands enjoyed a "domestic" rate prior to the dissolution of the Netherlands Antilles, hence the reason why passengers that fly to the BES islands from SXM actually pay less in departure fee ($20) than passengers traveling internationally ($35). This is unlike the case with Aruba where they pay the same departure fee as international passengers.
Moreover, she said, although SXM Airport also serves as hub for St. Barths and Anguilla, passengers to those islands still pay the international rate in departure fee, in other words, US$35 or 75% more than the BES islands.Concerning the misconception of emergency helicopters being unable to land or take off at SXM, another topic of concern for the Dutch, LaBega confirmed that if the helicopter does not indicate that it was on an emergency flight, then it would have to wait in queue to take off or land. However, once the relevant personnel are notified of its emergency status, that helicopter would undoubtedly have priority.
After briefly discussing the good working relationship between WINAIR and SXM Airport, the subject of KLM's current rates to St. Maarten in comparison to its rates to Curacao (even though it stops in St. Maarten first) came up. All present agreed that in order to facilitate travel to Saba and St. Eustatius, the rates offered by KLM – the national carrier of the Netherlands – need to be more affordable.
Furthermore, it is the responsibility of the Dutch government to ensure affordable transportation to its constituent entities. Geerlings, however, disclosed that discussions are ongoing with the Dutch authorities in hopes that some type of protocol could eventually be signed on this matter.