News & Media

São Paulo-Aruba-St. Maarten Route a Win-Win Situation, Voges Says in Talks with SXM Airport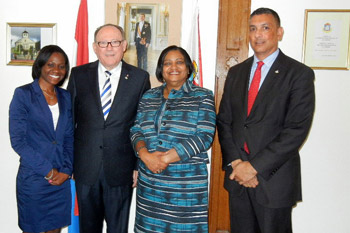 SIMPSON BAY, St. Maarten (May 25, 2013) Following the recent high-powered Dutch trade mission to Brazil, and the subsequent announcement by Aruba of an upcoming air bridge between São Paulo and that island, the cabinet of St. Maarten's Minister Plenipotentiary in The Hague has begun talks with Aruba to explore a joint effort that would target the Brazilian market.This was disclosed by Minister Plenipotentiary, Mathias Voges, and the director of his cabinet, Perry Geerlings during discussions with the managing director of the Princess Juliana International Airport, SXM, Regina LaBega when she paid a courtesy call on the St. Maarten House in The Hague, Friday. LaBega was accompanied by Corporate Communications Specialist, Kalifa Hickinson.
LaBega had indicated that Copa airlines was considering increasing its flights to St. Maarten to four times weekly once again. In expressing their satisfaction with this possibility, Voges and Geerlings noted that apart from the other parts of the Kingdom of the Netherlands, the Brazil market has a lot to offer St. Maarten also.
A São Paulo – Aruba – St. Maarten flight and vice versa would be a win-win situation for both Caribbean destinations, Geerlings said.
In her address to a full hall of CEOs, government officials, and other dignitaries, Ms. LaBega proudly represented not only SXM Airport, but also St. Maarten as a destination and the hub islands it serves.
LaBega gave a brief synopsis of the recent air service maintenance and development forum hosted by SXM Airport, in which stakeholders discussed ways to maintain and increase existing airlift as well as desired markets they would like to jointly pursue.
She disclosed that a committee to be spearheaded by SXM Airport will soon be formed consisting of the stakeholders, including hub clients such as St. Martin, St. Barths, Anguilla, etc.
The committee will be made up of mainly decision-makers in the industry. Members will make monetary contributions to a joint fund based on traffic forecasts to the respective destinations. LaBega said SXM will continue to keep the minister's cabinet abreast of the committee's vision and direction, and Geerlings expressed interest in continuing the discussions on his next working visit to the island.