News & Media

Deshawn York, Veronica John With Perfect Scores at AIS Training
SXM A Step Closer to Having its Own AIS Office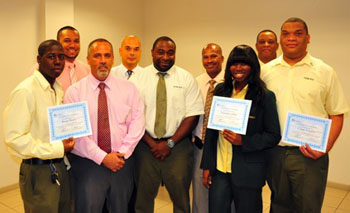 SIMPSON BAY, St. Maarten (July 21, 2013)- All five Flight Information Officers who participated in the six-week Aeronautical Information Services (AIS) and Aerodrome Flight Information Services (AFIS) training successfully completed the course at the end of June and have now made SXM Airport equipped to establish its own AIS Office.
Deshawn York had the highest score and passed with 100 percent on the AIS exam. He wasn't the only one to record a perfect score: Veronica John also scored 100 percent on the (AFIS) Exam.
The five members of the SXM Air Traffic Services team are no longer just Flight Information Officers, but now qualified AIS personnel. They are: Tamisha David, Deshawn York, Veronica John, Bruce Barry, and Cami Artsen.
Within the six-week period, they completed seven modules: Aviation Legislation, Navigation, Meteorology, AIS, AFIS, ATM, and Aerodromes.
This is the first internationally recognized training to be conducted in St. Maarten that is also endorsed by the Department of Civil Aviation in St. Maarten, ATS officials said.
Procedural Control Department manager Gregory Hassell noted that the goal is not only to establish an AIS Office at SXM but also a Training Academy. He said the academy would be a great cost-cutting measure that would have a positive economic impact on both the airport and the island. According to Hassell, these five staffers and their three instructors represent "continued progress in establishing an ATS Academy in St. Maarten."
Hassell also stated that all staff at ATS will be upgraded and trained in the latest developments in Air Traffic Services. He revealed that 99.9% of employees are certified.
The training was conducted by three recently qualified SXM Air Traffic Service instructors, Duncan van Heyningen, Philmore Watson, and Reynaldo Richardson, who administered the course under the guidance of ICAO Qualified Sr. Consultant Gabriel Virlan. "The instructors prepared the curriculum and training on their own," Hassell said.
During the ceremony, Watson, Van Heyningen and Richardson were recognized for their continued service to ATS Division at SXM. "All instructors did well," Hassell said.
Hassell disclosed that ATS intends to work extensively with Virlan in the near future.
Virlan congratulated the five staffers for successfully completing the rigorous training and commended the SXM instructors, saying "they did their job perfectly."
Radar Control manager Lloyd Hinds congratulated the staffers as well, noting that they did a "very good job." He encouraged the team to maintain the highest level of quality regarding their work and noted that the completion of the training "is just the beginning."
Duncan van Heyningen addressed the group and congratulated the team for its hard work and for helping to grow air traffic services. "We work as a team," he said, and thanked Virlan for sharing his vast knowledge.
"This is, indeed, another important step forward for SXM, and I wish to congratulate the course participants, their instructors and everyone involved in the training," said SXM managing director Regina LaBega.