News & Media

FOD Month at SXM Airport A Huge Success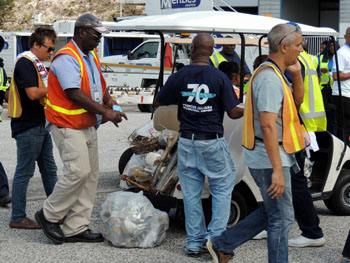 SIMPSON BAY, St. Maarten (July 21, 2013)- Following a review of the activities held to mark Foreign Objects and Debris (FOD) Month at the Princess Juliana International Airport (SXM) last month, organizers have concluded that the event was a "huge success."
About 350 people attended the FOD information sessions and did a written examination about the presentations, while almost 100 people participated in the FOD Walk. "Although this figure was a bit less than last year, we were still very pleased with the turnout, said Michel Hyman, Operations Manager at SXM.
"The various stakeholders ensured that "all hands" participated in the FOD "walk down." Participants ranged from flight crews, mechanics, bus operators, fuel agents, cargo handlers, counter/gate agents, security officers, airlines and handlers managers/representatives, and the PJIAE Operations Team consisting of Emile Levons, Franklin Wilson, Edmund Missoudan, and Z'haria Richardson."
About 103 lbs of FOD was collected which was 25 lbs less than the preceding year. "The less FOD we collect each successive year, the better," said Hyman. "It is an indication that progress is being made in terms of fewer FODs at the airport."
The participants stood shoulder to shoulder at the east general aviation ramp (foxtrot) and walked down toward the west covering the taxiways, runway safety area, main apron and commuter apron.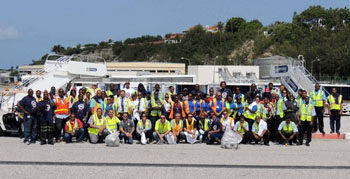 The group walked at a slow pace with eyes focused on the pavement and grass areas – bending over whenever necessary to pick up a piece of FOD. The items were collected into FOD bags and then analyzed to identify problems and process breakdowns.
"For example, if tools or objects were found, the item is traced to the specific responsible party with whom the matter would be discussed for better accountability. This helps to prevent incidents that could eventually lead to accidents," Hyman explained.
Continuous safety training, regular safety meetings and distribution of safety information/bulletins, etc, are among the ongoing program at SXM to reduce FOD. The international airport is also making a substantial investment in a new TYMCO (model 600) Regenerative Air Sweeper to assist the Operations Department in keeping the aprons clear of debris.
The FOD walk down is common at most, if not all airports. It gives everyone the opportunity to focus on the objective of the activity and also strengthens the commitment to the motto: "Safety is everyone's responsibility regardless of rank or position."
"At SXM, we continue to instill in our staff that the very first order of business everyday is to conduct a FOD walk down of aircraft stands prior to and after aircraft handling at the gates," said Hyman.
"We will start the awareness activities as early as February next year, thus enabling all staff from the various stakeholders to attend and participate in the scheduled activities. We will also use environmentally friendly bags during the FOD walk down," Hyman said, with respect to next year's FOD Month.