News & Media

SXM Honors Students at PWAS Graduation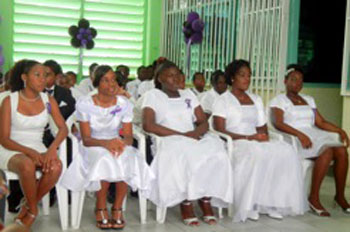 SIMPSON BAY, St. Maarten (July 21, 2013)- There were lots of smiling faces as the proud students of the Prins Willem Alexander School (PWAS) recently posed with their certificates, and SXM, having adopted the school one year ago, was present in full force to support the students.
The SXM Airport also surprised two deserving students, Willem Labardy and Juan Carlo Galva, at the graduation ceremony with the news that they will be receiving complementary uniforms for the coming school year – courtesy of SXM.
Twenty-two students received certificates at the Prins Willem Alexander School graduation, thus signaling the end of one chapter in their lives and the beginning of a new one.
Master of Ceremonies was Jerome Gumbs, the newest member of the Marketing & Customer Service Department at SXM, who kept the crowd engaged. The decoration for the ceremony and refreshments were also courtesy of SXM.
The keynote address was delivered by Dionsse Carti, a former pupil of the school who went on to St. Maarten Academy after graduating, and will be attending the University of the Virgin Islands to study mechanical engineering. He is a living testament that the students at PWAS can truly be anything they want to be.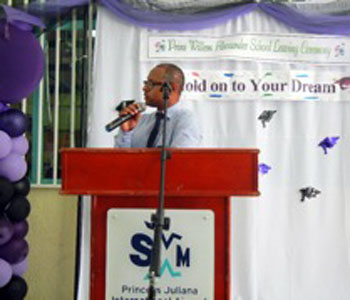 Carti encouraged the students to follow their dreams and "Don't give up. … I won't," he said.
The ceremony was moving and really highlighted how special each and every student is at PWAS.
Robert Brown, special projects coordinator at SXM addressed the students on behalf of SXM Managing Director, Regina LaBega, who was unable to attend. In his brief address, Brown said he was moved by emotions of joy and pride throughout the ceremony and encouraged the students to keep their eyes on the prize.
"If you focus on your education, you can achieve anything," he said.
The program included the song "Lean on Me" by students of class AO 5/6, a moving dance rendition by a member of the Voices of Our Children, a poem by graduating student, Trisha Isaac, and a song by the graduating class.
In addition to their certificates, students of the graduating class were recognized for their attendance and for most improved. This was the first year students at PWAS participated in the traffic exam, which is administered yearly at elementary schools throughout St. Maarten. Four proud members of the graduating class who took and passed the traffic exam were honored during the ceremony. The atmosphere was jovial and the theme "hold on to your dreams" echoed throughout.