News & Media

SXM Welcomes New SAHA Board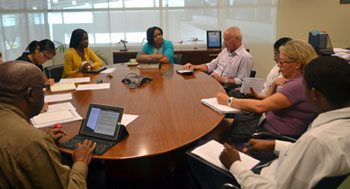 SIMPSON BAY, St. Maarten (July 21, 2013) - The Managing Director of Princess Juliana International Airport (SXM), Regina LaBega, earlier this week received the newly elected president of the St. Maarten Aviation Handlers Association (SAHA), Walter Borel.
Borel was accompanied by new SAHA board members Francois Boasman, operations manager at Halley Aviation Services (vice president); Anne Beck, station manager of US Airways (treasurer), and Shelliann Ramchandani, supervisor at JetBlue (secretary).
"The meeting was very cordial. We dealt with several matters of mutual interest and agreed to structure our regular meetings to make them much more productive," said LaBega.
"Congratulations to the new SAHA board and we at SXM are looking forward to a continued positive, constructive and mutually beneficial working relationship with SAHA," LaBega said.