News & Media

B & C Beverages Edges Nagico to Win SXM Airport Business Basketball Knockout Championship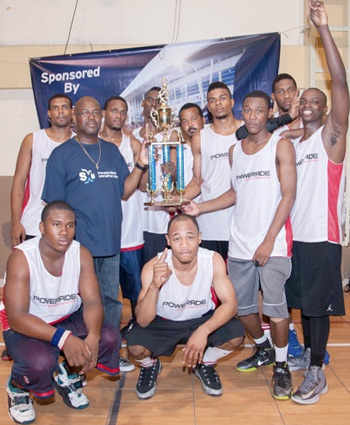 SIMPSON BAY, St. Maarten (August 28, 2013) -It took two OTs before B & C Beverages could finally dethrone defending champions Nagico to win this year's edition of the SXM Airport Business Basketball Knockout Championship on Monday, August 26, 2013, at the L.B. Scott Sports Auditorium.
Right to the final seconds of the second 5-minute overtime, it was evident that Nagico was not going to relinquish its crown without a fight to finish. At the end, B & C Beverages pipped the defending champions by a score of 61-58.
The battle for third place was also a hard fought one as Halley Aviation Services defeated Menzies by a thin margin of 53-51.
"Although 15 teams registered for the tournament, we could only accommodate 12 due to time constraints," said Evans Marsham of the SXM Airport's organizing committee.
"The games were very competitive and exciting," he said. "We had a good turnout of fans every night. We are very please and satisfied with the event and are now looking forward to next year's tournament already."