News & Media

FC Soualiga Soccer Team Prep for Tournament, Receive SXM Branded Jerseys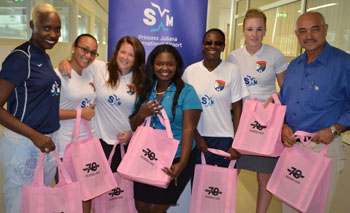 SIMPSON BAY, St. Maarten
(October 16, 2013) - Female athletes of the FC Soualiga Soccer team sponsored by the Princess Juliana International Airport (SXM), received their branded jerseys on Tuesday, October 15, 2013. They also received breast cancer promotional bags in light of the Breast Cancer Awareness Month currently underway.
The team will be hosting the FC Soualiga International Women's Soccer Tournament, which is slated for October 19-20, 2013, at the Johan Cruyff Court in Belvedere. For this tournament, the team will be welcoming a number of regional women's soccer teams to the island and will have the opportunity to hand over additional promotional SXM Airport bags to the visiting teams.
According to Lieneke Haandrikman, member of the FC Soualiga Management Team, this will be the first time since the establishment of FC Soualiga, in April 2013, that the team will be hosting such an international tournament. Participating teams are from St. Maarten, Curaçao, St. Barth's, and Trinidad and Tobago. St. Maarten will field two teams. Each team will consist of a maximum of 10 players, with six players on the field during the game, Cruyff Court competition-style.
"We've been practicing really hard and both teams have shown great dedication, motivation and improvement in skill. Unfortunately, we have not been able to scope out the competition yet, we have heard that they are indeed very good, but we will definitely do our best to make St. Maarten proud," Haandrikman said, commenting on the prospects of the hosts at the tournament.
"We hope this tournament will open doors and allow us to become acquainted with more teams internationally, as well as allowing us the opportunity to play abroad and represent our island," she added.
Since the establishment of FC Soualiga women's soccer team, SXM Airport has been a partner of FC Soualiga, assisting with the hosting of a Father's Day Business Tournament, providing practice uniforms for the ladies and now officially sponsoring the 'home' and 'away' tournament uniforms for the FC Soualiga players.
"SXM remains committed to supporting sports activities on the island, and we wish FC Soualiga the best of luck during the upcoming tournament," said Kalifa Hickinson, SXM Airport Corporate Communications Specialist.