News & Media

Gov. Holiday Presents LaBega with Bouquet of Flowers on SXM 70th Anniversary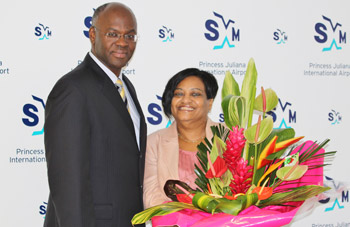 SIMPSON BAY, St. Maarten (Dec 4, 2013) Shortly after he returned from The Netherlands aboard a KLM flight on Tuesday, December 3, His Excellency drs. Eugene Holiday, Governor of St. Maarten, returned briskly to familiar grounds to present Regina LaBega, managing director of Princess Juliana International Airport (SXM), a beautiful bouquet of flowers on the occasion of the 70th Anniversary celebrations of what the governor calls a "St. Maarten institution."
Holiday, who was president of SXM until he took office as the first Governor of an autonomous St. Maarten on October 10, 2010, was unable to attend the Anniversary Symposium, which was held earlier in the morning of December 3 at the Westin St. Maarten Resort and Spa. The keynote speaker at the conference, world-renowned aviation specialist, Dr. John Kasarda of the University of North Carolina, gave two thought-provoking master classes focused on the concepts of "airport city" and "aerotropolis." Acting Governor, Reynold Groeneveldt, represented Governor Holiday at the Symposium.
In an accompanying letter addressed to LaBega, Governor Holiday wrote: "Today, December 3, 2013, marks 70 years since PJIA was officially inaugurated by Her Royal Highness Princess Juliana as a civilian airport. Ever since this day in 1943 our airport has and continues to play a central role in the development of our island."
"In fact," continued the Governor, "any analysis will show that the economic growth of St. Maarten and developments at PJIA are closely linked. This thanks to 70 years of dedicated service of many generations of the people of our island. PJIA is, therefore, as I have called it in the past, a true St. Maarten institution."
He added: "On its 70th anniversary, it is my pleasure to extend warm congratulations to all PJIAers who make up the PJIA family as well as to the people of St. Maarten as the stakeholders in this important St. Maarten institution."
"Thus as the board, management and staff celebrate this milestone I wish you many more years of service and contributions by and for the people of St. Maarten," the Governor concluded.
LaBega thanked Governor Holiday for the flowers and called it "a class act."
"We are really grateful for his thoughtfulness and know that he must be proud too, to have been instrumental in the transformation of the airport into what it is today," she added. (The International Air Transport Association (IATA) designator code for PJIA is SXM.)