News & Media

SXM Airport Selected for European Awards for Best Practices 2014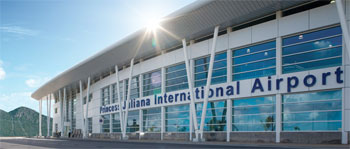 SIMPSON BAY, St. Maarten (April 2 , 2014) - The Princess Juliana International Airport (SXM), has been selected for this year's edition of the European Awards for Best Practices granted by the European Society for Quality Research (ESQR) with headquarters in Lausanne, Switzerland. The Awards ceremony will be held at the luxurious Le Plaza Hotel in Brussels, Belgium, on June 1, 2014.
"This is a complete surprise to us," said Regina LaBega, Managing Director of SXM Airport. "In the past year alone, we have received numerous international awards, each one highlighting the quality of our services and the dedication and professionalism of our staff. This European Awards for Best Practices will surely be a morale-booster for everyone at SXM Airport."
Indeed, according to ESQR, "the European Awards for Best Practices recognize the outstanding commitment, support and results in quality management strategies both in public administrations, large companies/organizations and medium/small sized enterprises/businesses/organizations."
Business leaders, academic experts, representatives of diplomatic corps and quality professionals from all over the world will participate in the Convention and Awards giving ceremony which will feature a conference in the morning and a Gala Dinner in the evening.
In his letter to SXM Airport announcing its selection for the Award, Dr. A. Arista, Executive Director of ESQR said, "The European Society for Quality Research (ESQR) is an organization dedicated to quality improvement techniques recognition and research. It recognizes excellence, disseminates innovation and visionary thinking, spreads knowledge, shares conformity assessment practices and facilitates networking."
Dr. Arista said "the award winning companies, organizations and public administrations are selected by ESQR based on the results of the ESQR's polls, consumer opinion research and market study."
Among past winners of the Award listed in the organization's website are the giant multinational, Philips of The Netherlands, and Denmark's Carlsberg Breweries.
"We are proud of this award and see it as an endorsement not only of the direction we have embarked upon in taking SXM Airport to the next level as a leader in Caribbean aviation, but also a recognition for the whole island as a destination," LaBega added.