News & Media

SXM Airport Comes Out Big Time For
Carnival 2014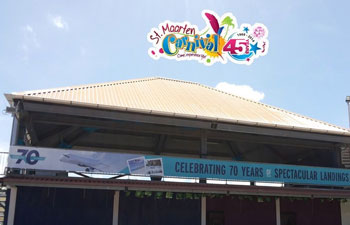 SIMPSON BAY, St. Maarten (April 25 , 2014) - The Princess Juliana International Airport (SXM), continuing with the celebration of its 70th Anniversary, and in accordance with its corporate social responsibility, has come out "big time" in support of the island's foremost cultural event, Carnival, which is also celebrating its 45th anniversary this year.
"Apart from a substantial donation to the St. Maarten Carnival Development Committee (SCDF), the airport was also a major sponsor of several contestants in the three St. Maarten Carnival Queen Pageants. In fact, all three Carnival Queens – Miss Mature, Anna Rabess Richardson, Senior Carnival Queen, Bria Sorton and Teen Carnival Queen, D'Shnay York – were sponsored by SXM Airport. (The reigning Senior Carnival Queen, Davinia Brooks who won the crown last year was also sponsored by SXM.)
"We welcome Princess Juliana International Airport to Carnival Village as one of our major corporate supporters," SCDF President, Michael Granger said at the presentation of the check to the hard working carnival committee. "SXM Airport and Carnival Village – Where the experience will move you! " Granger added, echoing the airport's slogan.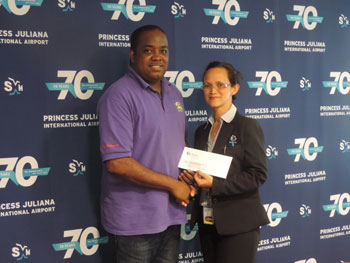 As you drive in front of the Festival Village, the eye-catching SXM 70th Anniversary banner can be seen displayed prominently, covering the width of the VIP section that has also been branded by the airport for its use throughout the Carnival season.
"It is a double celebration of sorts," noted Regina LaBega, SXM Airport's managing director. "We are celebrating our 70th anniversary and carnival is celebrating its 45th year. That calls for something special and we have decided to support not only the pageants, but also contribute to the resurgence of carnival floats, and are backing several other carnival activities, including the SCDF lead band, HD Prince & Unique Band and the NBA booth as well as J'Ouvert Morning T-shirts."
LaBega concluded by wishing our visitors and all residents a happy and safe Carnival.