News & Media

SXM signs agreement with St. Maarten wrapping company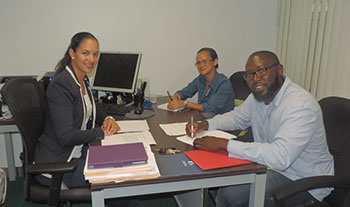 SIMPSON BAY, St. Maarten (Tuesday, August 14, 2014) - Baggage wrapping services at the Princess Juliana International Airport, SXM, has now become operational following an agreement signed recently between SXM and a local company, St. Maarten Wrapping Services.
Under the agreement, St. Maarten Wrapping Services will operate one mobile unit in the check-in area of the terminal building to provide the mentioned service to SXM passengers. The unit is open daily during the general business hours of the airport.
Cleon Frederick, Owner of St. Maarten Wrapping Service, said he was happy for the opportunity to render this service at the airport.
"I am very pleased about winning the contract for this particular service," he said. "This service is widely used throughout major airports in Europe, North and South America, Asia and Africa and I'm now pleased to say 'also in St. Maarten'."
Frederick disclosed that for now, he will employ two to three people to deliver this service which he said "provides protection against items being inserted in the luggage, theft from luggage, accidental opening, handling and/or rain damage."
"Clients can expect professionalism, customer friendliness and the same overall quality of service that SXM Airport provides to all their clients," Frederick said, adding that in keeping with international wrapping standards, the service will cost a traveler "on average $15 per bag."
"Based on research on this type of service, I truly believe it will be an asset and beneficial to SXM Airport, their visitors and residents alike," he added.