News & Media

SXM, Main Sponsor of "Save Our Zoo" Fundraiser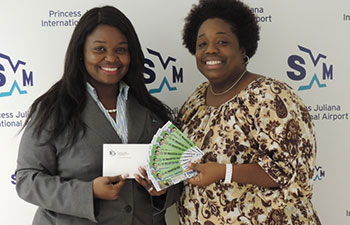 SIMPSON BAY, St. Maarten (Wednesday, August 20, 2014) - Facing bankruptcy and the possible closure of the zoo, the St. Maarten Zoological and Botanical Garden Foundation has been organizing fundraisers in recent months, to raise much needed funds for repairs of its facilities.
"The closure of the island's only Zoo is not an option," said Regina LaBega, Managing Director of the Princess Juliana International Airport, SXM, which has waded into the matter as one of the main corporate sponsors of a gala event dubbed "Save our Zoo," scheduled for Saturday, September 13, 2014 at Belair Community Center.
"It will be very disappointing to the many families, friends, and visitors, who come by to learn about animals and their habitats at the Zoo," LaBega added.
The foundation's dream is to create an educational and interactive atmosphere. The Zoo however, is not subsidized by Government, and has had to find ways to cover all expenses pertaining to the maintenance of the facility.
"We recognize how challenging this can be and therefore SXM did not hesitate to assist with this fundraiser," LaBega said.
Actor, educator and activist, Lamman Rucker will be the special guest at the gala fundraiser. Mr. Rucker is well-known for his roles in Hollywood hits like "Why did I Get Married" (1 and 2), "Black Coffee," "The Man In 3B;" and TV series "As the World Turns," "All My Children," and "Tyler Perry's Meet the Browns."