News & Media

LaBega Presented SXM Airport Annual Report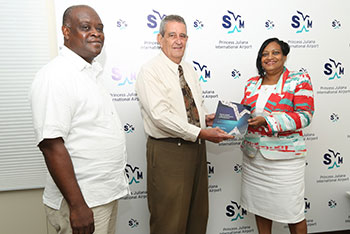 GREAT BAY, St. Maarten (Friday, August 22, 2014) Princess Juliana International Airport, SXM, Managing Director, Ms. Regina LaBega on July 25, 2014, presented the company's 2013 Annual Report to Mr. Joe Peterson, Managing Director of the Princess Juliana International Airport Holding Company (PJIAH NV).
The 2013 Annual Report presentation was made in the presence of the Hon. Minister of Tourism, Economic Affairs, Traffic and Telecommunications, Mr. Ted Richardson. The holding company is the owner of Princess Juliana International Airport Operating Company (PJIAE NV).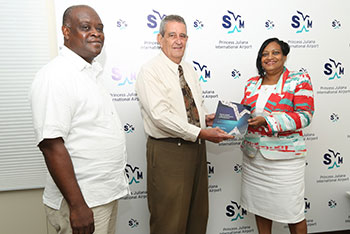 Mr. Peterson in turn presented a copy of the Annual Report to the Hon. Minister Richardson in his capacity as Shareholder's Representative. SXM Airport's 2013 Annual Report chronicles the activities of the company throughout the year and includes the company's financial statements, audited by PricewaterhouseCoopers (PwC).
"Our Annual Report is not just a statutory requirement, it is also a planning document that allows us to take critical stock of our performance in the year under review while planning for the future," LaBega said.
SXM's Annual Reports, dating back to 2006, can be found on its website at: www.sxmairport.com/business.php .