News & Media

Hot Look Sunglasses Opens Ultra Modern Store at SXM Airport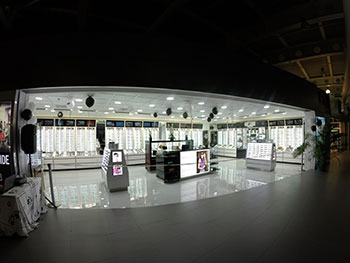 GREAT BAY, St. Maarten (Thursday, September 4, 2014) With a fashion show featuring some of the latest designer sunglasses modeled by SXM Airport staff, Hot Look Sunglasses last week officially opened its ultra-modern store, the newest in the Caribbean, located just past the current immigration post on the airside of the Princess Juliana International Airport (SXM).
"This very modern look with TV monitors, is the latest of HOT LOOK and the first in the Americas; it is exclusive today at the Princess Juliana International Airport," said Isabelle Souccar, of B2B Consultant/HOT LOOK Sunglasses, who was speaking at the opening ceremony on behalf of Laurent Vialenc, CEO of the company. 
She said HOT LOOK "is a chain of sunglasses retailer and we are proud to say 'born in SXM' with many other locations throughout the Caribbean islands and soon to come in the US. We are a leading retail sunglasses chain in the region with certainly the largest selection of fashion designer brands as well as sports sunglasses."
The company has been a "success story" over the eight years it has operated at SXM Airport "to the point that we have done better than certain major international airports, (as) told by our suppliers," said Souccar.
"We provide quality, the latest and limited editions of top designers, DF prices, and an outstanding customer service with all our different point of sales," she added. One of those limited edition sunglasses was featured in the fashion show, with five out of the 100 available worldwide here at the St. Maarten store.
Souccar praised the "exceptional management of Ms. Labega and her wonderful team" and guests were invited to browse around the ultra-modern store to check out what models of sunglasses they might be interested in.
Commenting on the opening of the store, SXM Managing Director, Regina LaBega, expressed satisfaction that HOT LOOK has actually increased employment opportunities with this new outlet.
"It is with great satisfaction that I note that HOT LOOK has created additional employment opportunities for St. Maarteners with its staff increasing by 50% at the new store, with further increases planned as we move into the high season," LaBega said.
She added that the opening of the new sunglasses retail store was similarly in line with the airport's policy of enhancing non-aeronautical revenue streams in a win-win situation.
"I wish the management and staff of HOT LOOK continued success in the future as our partnership becomes strengthened even more," LaBega said.