News & Media

SXM Airport is Corporate Sponsor of 2nd Annual International Women's Soccer Tournament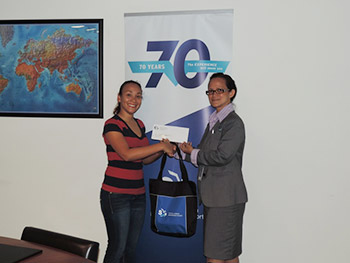 SIMPSON BAY, St. Maarten (Tuesday, October 21, 2014) - The second Annual International Women's Soccer Tournament, which will be hosted by the Soualiga Soccer Association (SSA) from October 24 – 26, 2014, will carry the name of SXM Airport as its "title sponsor."
About 100 persons are expected to participate in this event, which will be held at the Raoul Illidge Sports Complex.
The Soualiga Soccer Association solicited sponsorship from SXM Airport, as its corporate sponsor, to ensure the necessary funds are raised to host the event. SXM Airport has accepted to offer a significant financial contribution to facilitate the organization of this major tournament.
According to Kalifa Hickinson, SXM's Corporate Communications Specialist, "this is in keeping with our corporate social responsibility, as well as our efforts to promote and support sports in the community."
The SSA can look back at a very successful first year of existence, having hosted the 1st Annual Business Soccer Tournament, the annual Soccer Clinic, and the 1st Annual International Women's Soccer Tournament.
The Association started off as the FC Soualiga Women's Soccer Team, and became officially notarized as the Soualiga Soccer Association on August 27, 2014.