News & Media

SXM Aviation Photo Contest, Toppix, now Open to All Comers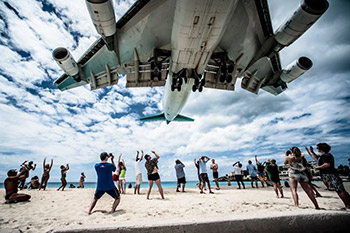 SIMPSON BAY, St. Maarten (Tuesday, October 21, 2014) - The Princess Juliana International Airport, SXM, has taken over sole sponsorship of the Sint Maarten Aviation Photography Competition, TOPPIX 2014, which will be held from November 7 – 14. The competition will be open to all comers, unlike its first edition last year when employees of the airport could not participate in it.
TOPPIX "godfather" Robert Cijntje, the brain behind the competition, said the aviation photography contest was now open to participants 16 years old and above, who could submit a maximum of three entries digitally. "The photographer that comes closest to the theme will win the competition," he disclosed at a press conference held at the Board Room of SXM Monday morning.
However, he added, organizers were still keeping the theme of the competition a secret until the welcome briefing scheduled for 8 AM, November 7 at SXM. There will be only one winner, who will receive a cash prize of US$2,500. Special mention will be made of the next best five photographs, all of which will be displayed prominently at SXM Airport, as was the case in the maiden edition of the competition.
Three judges will determine the winning entry – from St. Maarten, innovative photographer Prichard Gibson and veteran photographer Peter Gunn, and a worldrenowned international photographer, Max Dereta who specializes in aerial photography and is a photography instructor described by Cijntje as his "mentor." "TOPPIX 2014 is one of the final events of our 70th anniversary celebrations," explained Kalifa Hickinson, SXM's Corporate Communications Specialist. "We are happy to be hosting the competition again this year."
According to Cijntje, "this type of competition is held regularly in Europe." He said St. Maarten has a great amount of pictures showing its spectacular landings on various specialized aviation photography websites.
"Nowhere in the world can you get so close to the action as in St. Maarten," he said.
There is a registration fee of US$20 for each participant and the proceeds from this will go to the Breast Cancer Awareness Foundation, a charity chosen by the organizers.
While the number of international participants cannot be determined at this time, Cijntje said organizers expect a higher number of participants from the island to register for the competition given the fact that it is now open to everyone, including staff of SXM Airport.
"They will not have any particular advantage over any other participant as the photographs have to reflect the theme, which will be announced later," Cijntje explained. He said the winner of last year's competition was not a professional photographer, nor even an aircraft spotter. "She was an amateur photographer who took the best picture in the eyes of the judges."
Further information on TOPPIX 2014, including the registration form and competition rules and regulations, can be obtained by clicking on the "Events" tab at SXM Airport website, www.sxmairport.com, or at www.sxmairport.com/events.php.