News & Media

British Airways, Virgin Atlantic Still Interested in Service to SXM
COPA thinking of daily service, Sun Wing to start flying from Ottawa in December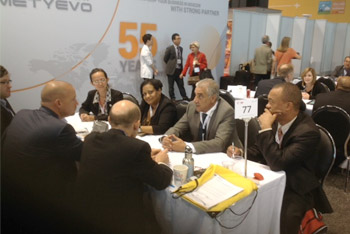 SIMPSON BAY, St. Maarten (Sunday, November 16, 2014)— British Airways and Virgin Atlantic are among airlines still considering service to the Princess Juliana International Airport, SXM, for a double stop as they prepare their schedules for 2015. This was disclosed following the World Routes Conference held in Chicago recently.

A St. Maarten delegation attended the conference. The delegation included Ludwig Ouenniche, Chef du Cabinet of the Minister of Tourism, Economic Affairs, Transport and Telecommunications (TEATT), who represented Minister Ted Richardson, Regina LaBega, Managing Director, SXM Airport, and Louis Halley, head of St. Maarten Civil Aviation Authority. Also forming part of the delegation was Suzy Kartokromo, Acting Manager, Marketing & Customer Services, SXM Airport.

British Airways representatives, William Parker and Tony Buss indicated that there is still great interest in a London, Gatwick – SXM service, which the company is looking at as part of a double stop with another destination. Following earlier discussions, they are now exploring the opportunities for the winter 2015 schedule. Given the high frequency of service to Antigua, (ANU), service to SXM would most probably be tagged to one of their existing flights, the airline's representatives explained.

Similarly, Virgin Atlantic is considering SXM for a possible double stop. The airline currently flies to Barbados, Grenada, Tobago, and Antigua. Operating its Caribbean services with the Airbus 330, offers the markets more premium cabins.

The pledged support of the Air Service Development Committee (ASDC) members, that is SXM's hub partners, was definitely seen as a strong factor in SXM's presentation to the airline, which listed SXM Airport for possible consideration in its 2015 – 2016 schedule. The airlines, however, explained that route decisions are solely based on profitability and not necessarily on political (or historical) ties with the markets they serve. Moreover, they indicated that there is a need to stimulate market awareness.

Yachting in St. Maarten also offers great potential for UK visitors, especially given the presence of Windjammer and Star Clipper on the island.

Southwest Airlines said that its focus is on the development and growth of its Houston, Fort Lauderdale and Baltimore hubs, following the merger with Air Tran. However, it said it was still very much interested in starting service to SXM, which is likely to happen in 2016 (BWI) and FLL in 2017, once its International Terminal is up and running.

For its part, Delta Airlines expressed satisfaction with the performance of its Atlanta, ATL and New York, JFK services and is set to file for a MSP (Minneapolis) service, for the period February through March, using a B757 aircraft. MSP serves as one of the carrier's hubs, thus the interest in pursuing new route opportunities.

The carrier is looking at the possibility for joint promotions, in an effort to push low season and Fall travel. DL Vacations is handling and coordinating these efforts. It was agreed that filling seats in March and December was not a problem, but other months definitely needed a push. Travelers in the North Mid-West of the US always look for sun destinations when traveling, so this presents great possibilities for markets such as SXM.

COPA Airlines is another carrier that is planning to expand service to SXM. Given its current performance, the airline is studying the possibilities of daily service. A fifth frequency will commence in December. The airline will closely monitor how the market responds to this. In talks with the carrier, it was agreed that retiming of the flight is not recommended, as the current schedule offers connectivity to South America, including Colombia. Retiming would result in misconnections. The carrier also stressed the need for joint marketing efforts to stretch the season.

The St. Maarten delegation also held talks with United Airlines, WestJet, and Air Canada all of which currently service SXM. However, the most promising discussions were with Sun Wing, which will start an Ottawa – SXM service from December 14 through April 2015, using a B737-800 aircraft.

While the airline offers charter flights/packages at present to Montego Bay, Kingston, Punta Cana, and the Bahamas, it must be mentioned that SXM offers a balance for summer travel. However, Sunwing's representative emphasized the need for joint marketing efforts.

In addition, Finnair is exploring a charter service from Helsinki, given its great interest in the St. Maarten market. Currently operating in/out of Miami, the carrier has a partnership with Thomas Cook. Using the Airbus A330 and A340, Finnair offers a two-class service on its flights. "All these talks were indeed quite encouraging in terms of increasing airlift to SXM," Regina LaBega noted. "The emphasis on joint marketing efforts by practically all the airlines means that as a destination, we must find a way to make the necessary financial allocations for this, if we want to continue to be competitive," she added.