News & Media

SXM Airport's MOU With Goddard Catering Will Facilitate Relocation of Fuel Farm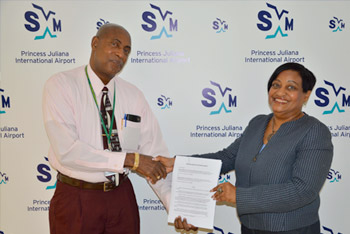 SIMPSON BAY, St. Maarten (Sunday, November 23, 2014)— The recent signing of a Memorandum of Understanding (MOU) between the Princess Juliana International Airport operating company, PJIAE, and Goddard Catering Group St. Maarten NV, is a step forward in the direction of relocating the current catering services provided by Goddard at SXM Airport.
According to Kalifa Hickinson, SXM Airport's Corporate Communications Specialist, this in turn will facilitate the realization of SXM Airport's strategic objective of moving the fuel farm from its present location on the airport ramp to the location currently occupied by Goddard Catering.
The MOU was signed on behalf of PJIAE NV, by its managing director, Regina LaBega and by Peter Cox, managing director of Goddard Catering Group St. Maarten NV. The relocation of Goddard Catering facility is expected to completed by the second quarter of 2015.
Thereafter, SXM Airport will proceed with the construction of a new fuel farm on the vacated premises. The new fuel farm will have an increased storage capacity, from its present current one-day supply of 3,000 barrels to a minimum of 10,000 barrels, which represents a supply of four days.
"All of this is not only to ensure adequate fuel supply, but also to enhance safety and security at the airport, given the safety challenges the current fuel farm poses," said LaBega.