News & Media

PJIAE Emergency Plan Exercise "re-enactment" at SXM Airport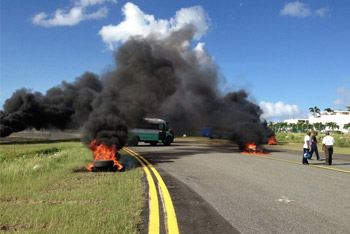 SIMPSON BAY, St. Maarten (Friday, December 12, 2014)— The Princess Juliana International Airport, SXM, conducted a successful "Live Emergency Exercise" on Friday, December 12, 2014, in accordance with the requirements of the International Civil Aviation Organization, ICAO. This emergency exercise was preceded by a tabletop exercise, as is customary, which was conducted the preceding day.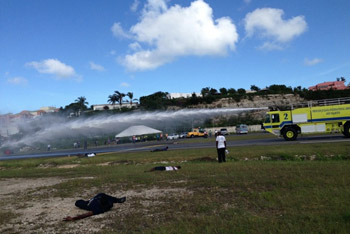 The purpose of the exercise was to assess the level of preparedness and coordination between SXM Airport and the island's emergency agencies in response to a simulated aircraft accident. The exercise tested the ability of SXM departments and the St. Maarten Emergency Support Function groups, as well as assisting emergency response agencies, to respond to and effectively manage an aircraft incident.
This live emergency exercise is essential in maintaining SXM's aerodrome certification and is usually conducted every other year. Volunteers from the American University of the Caribbean medical school and high schools on the island including Academy PSVE and Milton Peters College participated in the drill as wounded passengers of a fictitious carrier that went down between airport Taxiways A and B. All government emergency groups were deployed for this exercise including the Ambulance Dept., Fire Dept., Police, etc.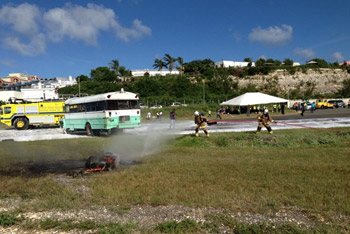 According to Michel Hyman, SXM Operations Manager who functioned as the Coordinator of the Emergency Management Center, "the exercise was a great training opportunity for firefighters, emergency medical services, law enforcement, and others to train under very realistic conditions. This helps prepare us all in the event of a crash." "I was very much pleased with the coordination, decision-making and support SXM Management personnel displayed in the Emergency Management Center (EMC). Overall the level of cooperation and coordination between all agencies went well and proved that all agencies possess a high level of knowledge in dealing with such catastrophes," Hyman added.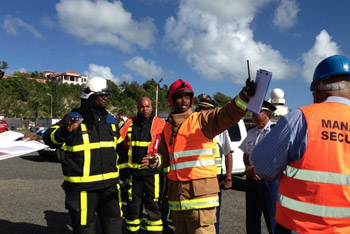 Anastacio Baker, SXM Manager, Quality Assurance Dept., who was lead evaluator for the emergency exercise, said there was a noticeable improvement in the coordination between SXM and the St. Maarten emergency support function groups when comparing this to previous emergency exercises.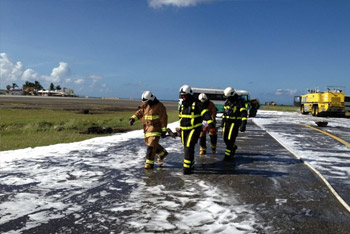 "This drill was much more successful than the previous drills," Baker said. "This was due to the close working relationship between the airport fire and the local fire departments." The newly formed internal Emergency Preparedness Committee, which was established early this year also played a huge role.
"This committee," Baker explained, "meets every month and discusses emergency scenarios. For the past three months the emergency committee, SMCAA, the local fire department, Police and government medical departments met on numerous occasions to discuss this drill and the role everyone must play. The success of the drill showed that working together really helped."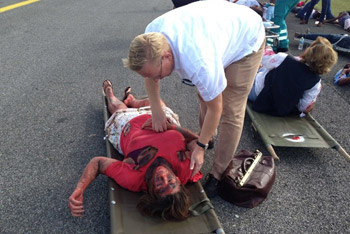 "SXM Airport wishes to thank all those who played a role in executing this successful emergency exercise," said Regina LaBega, SXM Managing Director.